Lower turnover, but order book increases 28% for the first nine months 2019/2020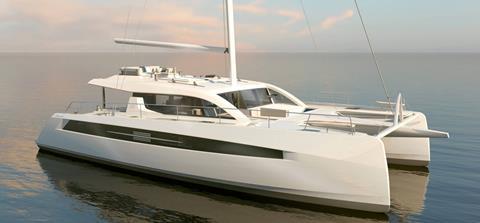 German boatbuilder Hanse Yachts reported a 28% increase in its order book for the first nine months of the company's 2020 fiscal year ending March 31 to €87.1m. At the same time, turnover for the nine months was down by -13% to €82.2m.
Hanse attributed results for the period to two major influences on the business – one expected, from start-up costs associated with the integration of the acquisition of French catamaran builder Privilege Marine and and strong demand for new models which are at the prototype stage of production; and the other completely unforeseen impact of the pandemic beginning in early March.
Consolidated net income (after taxes) amounted to -€7.5m for the first nine months compared to -€1.7m last fiscal year. The loss included start-up losses for Privilege of -€3.3m over the three quarters and thus not comparable to the previous period. Privilege was acquired in June 2019. Net income (after taxes) for the quarter was -€0.4m compared to +€0.8m for the third quarter last year.
Due to the effects of the COVID-19 pandemic, production slowed down at all four of Hanse's sites, noted the company's interim report on the period. "Staff absences, entry restrictions for cross-borderer workers and childcare requirements had a negative impact on production and thus revenues at the beginning of March 2020." Hanse said it experienced a shortfall in supplies of some parts required for production as well. The group also saw significant increase in inventories of finished goods and work in progress of +€8.2m, compared to +€3.1m.
Financial position
As of 31 March 2020, the company reported cash on hand of €3.5m. In addition to existing bank balances, Hanse has drawn down the amount €8.4m from current account credit lines in the amount of €9.0m.
Outlook
Hanse said it had a larger order book for the company's catamaran operation in France, with particularly strong advance orders for the new Privilege P510 and P580 models, but it expects the other shipyards to suffer in the short term from the cancellation of boat shows between March and at least August 2020. The builder also took note of the potentially positive impact of people wanting to own their own boats as a more attractive, safe way of taking local holidays.
Nonetheless, due to the uncertainties still surrounding the Covid pandemic, Hanse's Board of Management retracted its original forecast for 2019/20 which called for a slight increase in sales growth over the previous year and a reduced but positive consolidated net income in the single-digit million euro range.
"Based on current knowledge, the Management Board expects a net loss for the Group for fiscal year 2019/20."