Net sales up 45% YOY, gross profits up 39.2% for multi-line fibreglass boat builder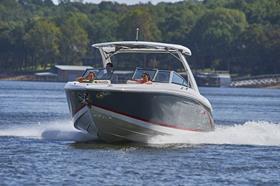 Malibu Boats in the US has posted strong second quarter results on the strength of recent new model introductions and improved operational efficiencies.
The company reported net sales for the quarter ended December 31, 2018 as US$165.8m, representing a year-over-year increase of 45.0% against Q2 2018. Net sales of its core Malibu towboat brand increased by $14.6m, or 21.5%, to $82.7m for the quarter, while net sales from its Cobalt segment increased by $6.5m to $45.9m for a gain of 16.5%.
Net sales and unit volume for the company's newly-acquired Pursuit business were reported at $29.9m.
Gross profits for the quarter were reported as $38.3m, marking a YOY gain of 39.2% while adjusted EBITA increased by 42.5% to 29.4m compared to Q2 of 2018. Net income of $15.0m, or $0.68 per share, increased by a whopping 368.6% compared to the same period last year.
"We saw ongoing momentum in our business during the second fiscal quarter of 2019, as demand for our product at Malibu, Cobalt and Pursuit continues to be very strong," said Malibu CEO Jack Springer. "Dealers' orders remain robust, which has created a strong order book across all of our brands and channel inventories are at near optimal levels."
Springer attributed the strong results to the introduction of several new models with desirable features, and improvements in operational efficiencies.
"Our second quarter results reinforce our ability to deliver consistent profitable growth, while leveraging our world-class brands," said Springer. "We are laser-focused on continued execution and even better performance from Malibu, Cobalt and Pursuit, and believe we are well-positioned to deliver increasing value for our stakeholders."