Chaparral, Robalo Boats parent posts 7.1% revenue gain for its first quarter of 2019
Atlanta, US-based Marine Products Corporation, manufacturer of the Chaparral and Robalo fibreglass boat brands, reported net sales of US$83m for its first quarter of 2019, representing a year-over-year gain of 7.1% compared to $77,536,000 in the same period of the prior year. The increase is attributed to a 14.8% YOY increase in average selling prices and an increase in parts and accessories sales, both of which helped offset 6.8% decrease in the number of units sold.
Gross profit for the quarter ended March 31, 2019 was $18.6m, a 5.9% YOY increase over the $17.6m reported for the same period in 2018 attributed to the company's higher net sales. Gross margin as a percentage of net sales was 22.5%, compared with 22.8% for the previous period, attributed to higher labor costs as a percentage of net sales. The company reported operating profit of $8.8m, down 1.8% from the $9m reported in Q1 2018.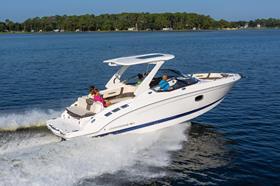 Net income for the first quarter of 2019 was $7.4m, down 1.8% from Q1 2018.
"During the first quarter, we sold fewer of our small boats to our dealer network, resulting in a 6.8% decrease in unit sales," said Richard A. Hubbell, Marine Products' president and CEO. "Sales declines were concentrated in our smallest Robalo models and Chaparral H2O models. By contrast, we realized increased sales of larger Chaparral H2O models, larger Chaparral SSX and Robalo models, and generated our first sales of Chaparral's 300 OSX Sport Luxury outboards. The model mix that resulted from these shifts allowed us to generate an increase in net sales and gross profit."
Hubbell said he remains optimistic for the balance of the 2019 selling season in North America. "We are closely monitoring retail demand among our various products," he said. "At the end of the first quarter, our dealer inventories were comparable to inventory levels at the same time in 2018. Unit order backlog was moderately lower at the end of the quarter, so we have reduced production slightly in order to maintain healthy dealer inventory levels in preparation for the 2020 model year."