US boatbuilder posts near 37% increase in net sales, 28% gain in gross profits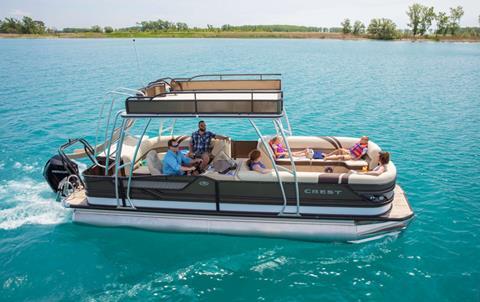 MasterCraft Boat Holdings Inc delivered strong third quarter results with total net sales of US$128.4m, reflecting a near 37% year-over-year gain against sales of $93.8m reported for the prior-year period.
The company, manufacturer of Mastercraft watersports boats, NauticStar fishing boats, Crest pontoon boats and the newly-announced Aviara luxury day boat line, posted net income of $12.8m for the quarter ended March 31, 2019, representing an 11.4% gain over the prior-year period. Third quarter gross profit increased by $7.0m to $31.4m, representing a YOY gain of 28.6%. The October 2018 acquisition of Crest Pontoon Boats contributed $4.7m of that increase, while MasterCraft contributed $3.8m. NauticStar's gross profit for the period declined by $1.5m. Gross profits were partially offset by higher sales discounts given to Canadian and European dealers impacted by the retaliatory import tariffs.
"We delivered strong financial results in our fiscal third quarter, once again achieving record levels of net sales and profitability," said Mastercraft Boat Holdings president and CEO, Terry McNew. "We are pleased with the recent announcement that the retaliatory tariffs in Canada have been rescinded, and we look forward to a resolution of the European retaliatory tariffs that continue to affect the powerboat industry."
The company's fiscal 2019 outlook forecasts a low-40% net sales growth over fiscal 2018, driven by a higher contribution from its Crest acquisition.