90% of 2019 and 40% of 2020 build slots already sold
The UK's Princess Yachts announced strong preliminary results and performance figures at the start of boot Düsseldorf this year, highlighting the fact that 90% of 2019 and 40% of 2020 build slots are already sold.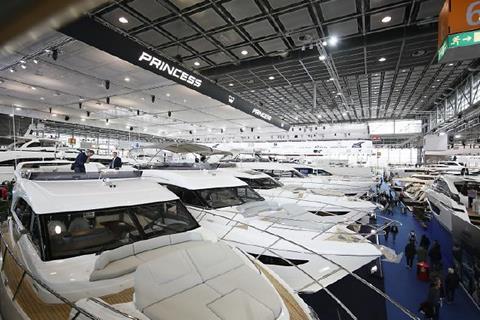 According to the luxury motoryacht builder, revenues have risen 79% in three years and gross margins are up by 40%-50%. The company also said EBITDA has more than doubled and turnover has risen more than 300% since 2015. Princess now employs around 3,000.
"All our earnings are being reinvested into the company to expand the facilities and in product development," said executive chairman Anthony Sheriff, adding that there is ongoing heavy investment in facilities including a new plant at its South Yard in Plymouth.
The builder also stated that it's flow of new orders remains strong. To ensure this continues, Princess (which has launched six new models over the last year) plans to keep up its pace of product launches.
At Düsseldorf, the UK builder is exhibiting three yachts making their world premieres. These include the Princess Y85, a new flagship for the company's Flybridge range with styling by Olesinski and Pininfarina working in association with the Princess Design Studio. This design trio is also involved in the new high-volume model X-95, which is set to be introduced next year and for which four orders have already been received.
Pininfarina says: "The scope of this broad project, resulting from the partnership between Princess Yachts, British luxury motoryacht manufacturer, Olesinski, design and naval architecture studio, and Pininfarina, iconic Italian design house, is re-writing the rules of yacht design, setting a new standard of layout excellence."
The Y85 is the new flagship for the Princess motoryacht series with a big design focus on both exterior and interior spaces, wide use of technology and strong performance. Twin MAN V12 engines offer class-leading fuel economy and a speedy performance up to 33kt. The yacht includes an innovative galley arrange which allows guests to choose between an open plan or enclosed galley at the press of a button.
The yacht has four luxury cabins for eight guests and large social exterior and interior spaces. The flybridge is designed for an alfresco style of relaxing and enjoying cruising combined with large panoramic views.
Another flagship model is the Princess V78, which is now the front-runner in the company's V Class series. This series focuses on a sporty and outdoor lifestyle approach to using the yacht and the twin MAN V 12 engines give a powerful performance up to 39kt maximum speed.
Sheriff commented further on this class: "V Class has been a historically successful product line for Princess that has appeared to those who love to live the outdoor lifestyle. The loyalty of its customer base and its uncompromised style, layout and performance capabilities mean it has formed the cornerstone of the Princess range. As a result, we continue to invest heavily in the V Class to take advantage of a renewed interest. The V78 is a true flagship in a valuable and vital class of Princess yachts."
The third world premiere at Düsseldorf was the F45 with the focus of this model being on alfresco dining and on-deck living. Large windows provide a lot of light and the craft's speedy performance is up to 31kt with the V-hull providing optimised sea-keeping.