Sales increases driven by bumps in both unit volumes and retail dollars propel US boat builder to a strong finish to 2019 full year and fourth quarter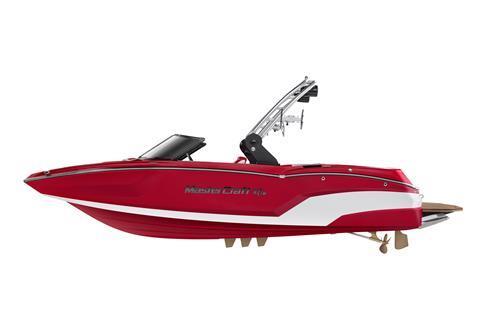 MasterCraft Boat Holdings Inc reported higher sales for both its fourth quarter and full-year 2019 fiscal results, which were released on Thursday.
The Tennessee, US-based parent to the MasterCraft, NauticStar, Crest and Aviara boat brands, reported net sales of US$122.8m for the quarter ended June 30, 2019, marking a 28.7% year-over-year gain over the $95.4m reported for Q4 2018. The increase was attributed to a combination of higher sale volumes and higher retail prices for the company's flagship MasterCraft tow boat line, and a $23.3m contribution from its Crest pontoon boat brand. Gross profit for the quarter was reported as $3.6m, representing a YOY increase of 12.9% over the $27.9m reported for the previous fourth quarter.
Operating expenses for the fourth quarter increased by $34.1m to $43.0m for the fourth quarter, marking a 381.0 % jump over the $8.9m for the prior-year period, and were attributed to mainly from a one-time NauticStar asset impairment charge and the inclusion of the Crest brand, which increased operating expenses by $1.8m.
Net sales for MasterCraft Boat Holdings' 2019 full fiscal year were reported as $466.4m, representing a 40.2% increase over the $332.7m reported for FY 2018. Gross profit increased by $22.8m to $113.1m for FY 2019, a 25.2 % increase over the $90.4m reported for fiscal 2018. Operating expenses as a percentage of net sales grew by 6.8 percentage points to 17.1 % for the year, compared to 10.3% for fiscal 2018 primarily as a result of the one-time NauticStar charge.
Adjusted EBITDA was $79.3m for fiscal 2019, compared to $64.0m in the prior-year period.
"MasterCraft Boat Holdings delivered strong operational results in the fourth quarter, closing out our fiscal 2019 on a strong note," said president and CEO Terry McNew. "Despite many headwinds faced throughout the year, including import tariffs, adverse weather throughout the country during the selling season – especially in June – and macroeconomic uncertainty, our team once again generated record levels of net sales and adjusted earnings. Moreover, our strong cash management practices enabled us to significantly reduce our total debt."
McNew added the company remains optimistic looking forward, with its consolidated fiscal 2020 outlook calling for continues strong sales augmented by the addition of the company's new Aviara line, with product now shipping to dealers.