The Italian yacht builder reported profits of €27 million for 2019, a backlog of €500 million and says the company is not yet experiencing a material impact on business operations due to COVID-19
The Board of Directors of Italy's Sanlorenzo SpA approved the consolidated financial statements for the company and previously released draft figures for the year ending 31 December 2019.
HIGHLIGHTS
Consolidated net revenues from the sale of new yachts of €455.9 million (+39.3% compared to €327.3 million in 2018)
New yacht revenues increased for all divisions and for all geographical areas
Adjusted consolidated EBITDA of €66.0 million (+73.4% compared to €38.1 million in 2018)
EBITDA Margin: 14.5% of net revenues (new yacht sales)
Consolidated EBIT of €43.1 million (+84.0% compared to €23.4 million in 2018)
EBIT Margin: 9.5% of net revenues (new yacht sales)
Group Net Profit (after tax) of €27.0 million (+117.3% compared to €12.4 million in 2018; 5.9% margin)
Backlog at 29 February 2020 of €500.8 million compared to €444.3 million at 31 December 2019
Shareholders' Meeting to be convened on 21 April 2020
Commenting on the approved financials, Sanlorenzo Executive Chairman Massimo Perotti said, "The results that have been approved today confirm the achievement of the targets indicated in the IPO phase with figures at the high end of the forecasts. We are extremely pleased with these figures, with all Group divisions having recorded a positive trend."
At present the Coronavirus has not compromised the operations of the Company.

Massimo Perotti
Perotti said the company will be releasing results for Q1 2020 soon which also show a positive sales trend and a backlog exceeding €500 million as of 29 February, providing important visibility for 2020 and 2021. He also indicated the company would provide 2020 guidance taking into account the COVID-12 situation at the next Board of Directors meeting, scheduled for 11 May 2020.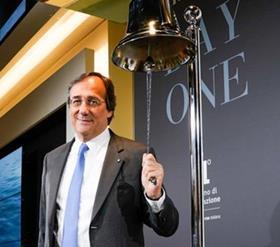 Perotti further noted, "The authorities (with the prime ministerial decree of 11 March) have strongly urged the entire population of Italy to comply with standards of caution in order to prevent the spread of the coronavirus. At present, production activities are permitted to continue, though with specific measures which the Company is rigorously carrying out to safeguard the health of workers and to block any possible propagation of the virus. Though we are in a situation of clear national emergency, at present it does not compromise the operations of the Company."

Analysis of New Yacht Revenues
Sanlorenzo's Yacht Division is responsible for the bulk of company revenues – close to 64% – and registered 41% growth compared to 2018. The Superyacht Division and recently created Bluegame Business Unit both also registered strong growth over the year. According to the financial reports, the mix of revenues by Division were in line with the previous year.
New Yacht Revenues by Division

| € Mil | 2019 | % change | % total |
| --- | --- | --- | --- |
| Yacht Division | 289.9 | 41.0% | 63.6% |
| Superyacht Division | 150.0 | 47.3% | 32.9% |
| Bluegame Unit | 16.0 | 172.0% | 3.5% |
| Total | 455.9 | 39.3% | 100.0% |
Production in Sanlorenzo's three divisions is broken down as follows:
Yacht Division - composite yachts of a length between 24 and 38 metres;
Superyachts Division - superyachts in aluminium and steel of between 40 and 68 metres long;
Bluegame Division - sport utility yachts of length between 13 and 22 metres
By geography, Europe is the yacht builder's largest market accounting for more than 61% of total new yacht revenues or €280 million. Sales generated in Italy came to €60.0 million.
Asia Pacific and the Americas each contribute about 16% of total new yacht revenues, with APAC showing stronger growth in 2019 – more than double that seen in the Americas. Growth in the Middle East and Africa over the year was particularly strong, up 80% for the company.
New Yacht Revenues by Region

| € Mil | 2019 | % change | % total |
| --- | --- | --- | --- |
| Europe | 279.6 | 48.7% | 61.3% |
| - Italy | 60.0 | | 13.2% |
| Asia / Pacific | 73.0 | 26.8% | 16.0% |
| Americas | 71.7 | 11.9% | 15.7% |
| Middle East/Africa | 31.6 | 80.3% | 6.9% |
| Total | 455.9 | | 100.0% |
Analysis of Operating Results and Net Profit
Sanlorenzo reported adjusted earnings before interest, tax, depreciation and amortisation (EBITDA) for 2019 of €66.0 million, up by 73.4% and providing an improved margin of 14.5% on new yacht revenues compared to 11.6% in 2018. The margin gain was attributed to a progressive increase in pricing for new job orders in the Superyacht Division, and the positive impact of investments in increased production capacity which are now operational and have led to reduced operating expenses as well.
EBITDA figures adjusted for non-recurring expenses of €6.1 million – entirely linked to the costs of the company's public listing on the Borsa Italiana in December – came to €60.0 million, a 74% increase compared to €34.4 million the previous year.
Opearting earnings (EBIT) were €43.1 million, up 84% compared to €23.4 million in 2018, and equivalent to a margin of 9.5%.
Net financial expenses were €5.2 million for the year, an increase of nearly 50% with the increase related to transaction costs for a medium/long term loan of €40.1 million which was repayed at the same time as the IPO.
Income taxes in 2019 represented 29.2% of the pre-tax profit, compared to 33.3% in 2018, due primarily to greater benefits from patents.
Group Net Profit for 2019 amounted to €27.0 million, a hefty increase of 117% over the previous year and providing a margin of 5.9% over net revenues.
Analysis of the Balance Sheet
Sanlorenzo reported a net financial position of €9.1 million at year end, compared to a pro-forma net financial position of €75.4 million the previous year. A favourable trend in net financial debt in 2019 was supported both by the cash generation of operating activities (versus investments in manufacturing processes), and by the proceeds from the share capital increase linked to the IPO, €49.1 million of which was used to repay medium-long term loans. According to the company, cash and cash equivalents at 31 December 2019 amounted to €60.2 million.
Capital expenditure during the year totalled €51.4 million compared to €46.3 million in 2018, with €29.6 million linked to the production capacity increase programme started in 2017 and €15.2 million earmarked for new product development and creation of models and moulds.
Business Outlook
The Group's backlog at 29 February 2020 amounted to €500.8 million, of which €377.5 million is related to 2020 and €123.3 million to subsequent financial years. The overall figures are €56.5 million higher than at the end of the 2019 financial year. The backlog at 31 December 2019 was €444.3 million showing an increase of 10.4% compared to the end of 2018.
To date, the impact of the current situation linked to the spread of the COVID-19 virus has not materially affected business operations. With regards to the results expected for the current financial year, the Company is constantly monitoring the development of the situation and its effects on the market and has already undertaken significant actions to protect the Group and mitigate the possible negative effects.
The management team continues to pursue the strategic path undertaken for the development and growth of the Group, also with regard to the 2020 financial year, on the basis of guidelines already communicated on occasion of the IPO, which plan the expansion of its product range, its market diversification, the development of services and the increase in production efficiency and profitability.
Financial Statements of the parent company Sanlorenzo SpA
The parent company's net revenues of new yachts were €425.5 million in 2019, up by 35.8% compared to €313.2 million for 2018, while Net Income (after taxes) came to €29.1 million in 2019, compared to €12.1 million for the previous year, an increase of 140.3%.
Net financial expenses for the parent company amounted to €4.9 million compared to €2.9 million in 2018.
Sanlorenzo S.p.A shareholders' equity at 31 December 2019 was €158.5 million compared to €112.0 million the previous year, and providing a net cash position of €1.0 million at year end.
The Board of Directors resolved to propose allocation of the net profit for the year to reserves at the Shareholders Meeting, in accordance with the policy on the distribution of dividends approved on 9 November 2019.