Third quarter results reveal a 12% drop in deliveries and 16% drop in order intake for Volvo Penta, but solid adoption of its new D4/D6 engines points to calmer seas ahead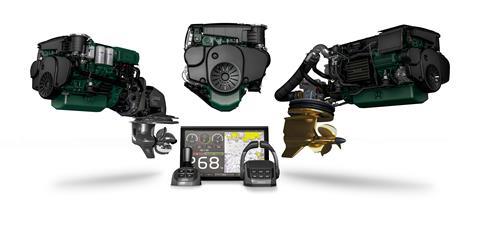 Volvo Group reported financial results for the third quarter of its 2019 fiscal year today, revealing a difficult quarter for its Volvo Penta marine division.
Volvo Penta reported net sales of SEK 3,151m, representing a 2% year-over-year drop from the third quarter of 2018 in spite of double-digit YOY sales growth in South America, Africa and Oceania. Adjusted for currency movements, net sales decreased by 5%, of which sales of engines decreased by 7% and sales of services were flat.
Operating income for Volvo Penta was reported as SEK 399m, a YOY drop of 37% from the SEK 630m reported for Q3 2018. Currency adjusts positively impacted operating incomes by SEK 96m.
Operating margin for Q3 2019 was reported at 12.7% for the Volvo Penta division, compared against 19.6% for the prior year period. The adjustment reflects lower engines sales combined with significant new activity in R&D, including development of its electric saildrive proof-of-concept revealed at the Cannes Yachting Festival in September onboard a Fountaine-Pajot sailing catamaran.
Volvo Group president and CEO Martin Lundstedt noted that Volvo Penta's third quarter results for 2019 reflect the impact of an unusually high demand for industrial engines in Europe last year, making direct YOY comparisons in the marine sector more difficult to gauge. He also pointed to the successful market adoption of the company's new D4/D6 marine propulsion package in both the leisure and commercial segments as boding well for future growth. The engines won an innovation award at the IBEX trade show earlier this month.
For Volvo Group overall, the third quarter of FY 2019 brought positive results highlighted by net sales of SEK 99 bn, marking a 7% YOY increase, operating income of SEK 10.9 bn and an operating margin of 11%.