New 39,000sq ft facility will focus on aftermarket distribution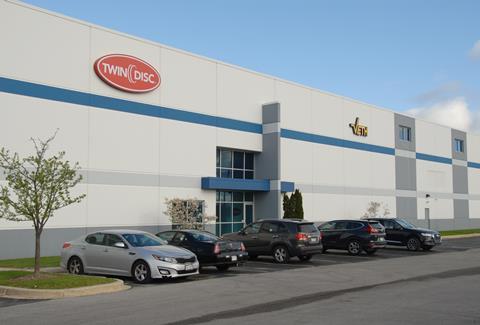 May has proven to be a good month for Wisconsin-based marine power transmission manufacturer Twin Disc Inc, as the company announced the completion of new global distribution centre and plans to expand a second facility on the heels of strong third quarter results.
Opened on May 14, the company's new 39,000sq ft North American Aftermarket Distribution Centre will streamline aftersales operations and provide increased operational efficiency. Located in the community of Sturtevant, about six miles from the main Twin Disc facility in Racine, the new centre is expected to be fully operational by June.
The ribbon-cutting came only a week after Twin Disc reported strong results for its third quarter of 2019. Q3 net sales for the quarter ended March 29, 2019 were reported as US$77.4m, representing a gain of 18.5% over the $65.3m reported for the same quarter the previous year. The sales increase was attributed to the contribution from the company's acquisition of Veth Propulsion in June 2018, and improved activity in the global industrial and marine markets.
Net income of $4.56m was up by 5.8% over the prior year period, while Q3 EBITDA of $9.9m increased by 39.1% year over year. Gross profit was reported as 29.9%, down slightly from the 31.9% reported for Q3 2018.
"Financial results continue to improve from the prior fiscal year period as a result of the contribution of the Veth acquisition and stable demand across most of our global markets," said Twin Disc president and CEO, John Batten. "During the third quarter, we sold our distributor in the Pacific Northwest and western Canada to further focus our efforts on product development, engineering and customer support.
"We also broke ground on a new 50,000sq ft operations facility in Lufkin, Texas, which is expected to open in January 2020 and will expand our production capacity and capabilities."