Lippert Components is on a fast-track to diversify from the RV sector by expanding in marine markets and other adjacent industries
US equipment maker, LCI Industries, has reported full-year sales growth of 15%, hitting record revenues of $2.5 billion in 2018. Net income increased 12% for the year to $148.6 million.
Through its wholly-owned subsidiary Lippert Components, LCI is heavily concentrated in OEM products for the recreational vehicle (RV) business, which together with RV aftermarket products, account for 63% of total revenues today. However, the company is robustly pursuing diversification to bring the RV business contribution down to less than 40% by 2020.
Indeed, OEM sales to adjacent industries – including Marine – grew to $614.6 million for the year, up 49% year-over-year. "Our strategy to diversify our business through adjacent markets, the aftermarket, and internationally is clearly paying off," said Lippert's chief executive officer Jason Lippert.
Lippert said that aftermarket sales grew to $233.2 million for the year, up 36% and account for 10% of total revenues, while international sales grew to $104.1 million in 2018, up 125% year-over-year.
Net sales of acquired businesses last year contributed $231.4 million, or 9%, to total sales in 2018 – with $170 million of this attributed to the Taylor Made Company, purchased by Lippert in January 2018 for a $90.4 million when Taylor Made's 2017 revenues were $150 million. Earlier this month, Lippert announced that all current and future marine products made across the company's businesses would be rebranded under the Taylor Made brand.
"Our strategy to diversify our business through
adjacent markets, the aftermarket, and internationally is clearly paying off."

Jason Lippert, LCI Industies CEO
In all, LCI spent a total of $185 million in cash for business acquisitions last year, $120 million for capital expenditures and returned $88 million to shareholders in the form of dividends and share repurchases, leaving it with a net debt position of $279 million at December 31, or leverage of just over 1x EBITDA.
Despite an excellent year overall, LCI saw a 2% decline in revenues during the 4th quarter, compared to the same period a year ago, down to $537 million. Lippert attributed the decline to the RV wholesale segment which has been struggling for the past nine months due to overstocking at the dealer level. The 4% decline in wholesale RV shipments in 2018 was the first that secotr has seen in 9 years.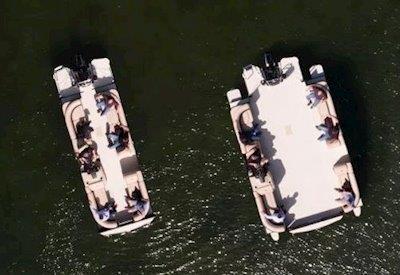 Nonetheless, the company said it is has been outpacing the RV OEM market – which was down as much as 20% in the 4th quarter – through increased content per vehicle via a mix of organic growth, new product, and acquisitions. Content per towable RV increased 6% to $3,450, and motorhome content increased $2,491, up 12% from the prior year.
Content expansion is a strategy that Jason Lippert will pursue in the Marine sector as well. He told analysts during the earnings webcast, "We're also starting to use our innovation team more heavily in marine and adjacent OEM markets." The company debuted a slide-out system with pontoon builder Bartletta Boats at IBEX which expands the deck of a pontoon boat up to 6 additional feet. "Other exciting marine projects on the horizon" he hinted, "include aluminum pontoon rails, flooring for boats, onboard Wi-Fi, as well as hydraulic power steering systems."
Lippert also reiterated a number of times during call that the company would be "looking to identify and integrate strategic acquisitions that support strong returns to shareholders and non-RV categories in Europe, adjacent markets and the aftermarkets." Marine companies are undoubtedly among the targets on Lippert's radar.