The industry's second largest marine manufacturer records value and unit sales growth in 2018 and aims for ambitious targets in 2021.
Japan's Yamaha Motor Co. released year-end and 4th quarter results showing a 6% rise in marine sales reaching ¥344.7 billion (US$ 3.13bn) for 2018, representing 20.6% of total company sales. The Marine division includes outboard motors, personal watercraft (PWCs), boats, FRP pools, fishing boats and utility boats.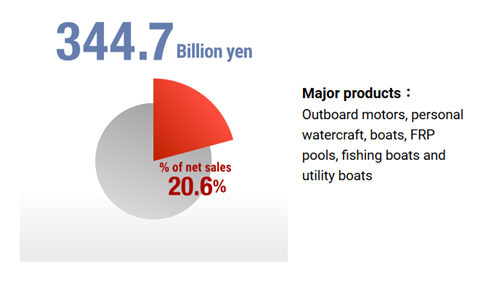 According to Yamaha Motor, unit sales of outboard motors, personal watercraft and sports boats increased year-on-year, together with revenue gains. The outboard engine business grew 5.6% to ¥185.1 billion ($1.68bn) for the year and account for 54% of sales in the Marine division. PWC, boats and other marine products grew 7.5% to ¥159.6 billion ($1.45bn) and account for 46% of segment sales.
North America makes up 60% of Yamaha's total Marine sales, followed by Europe with 15% of sales. Europe yielded the stongest growth for the marine division – up 15% – in 2018, but the company said sales and profits were enhanced by product mix of large model outboard motors in North America.
2018 Marine Sales by Region

| Region | ¥ bn | % growth | % segment |
| --- | --- | --- | --- |
| North America | 206.2 | 5.4% | 60% |
| Europe | 50.5 | 18.5% | 15% |
| Japan | 27.9 | 1.8% | 8% |
| Asia | 19 | 10.5% | 6% |
| Others | 41.1 | 0.2% | 12% |
The Marine division is the second largest business in Yamaha Motor's portfolio after Motorcycles, which represent 61% of total company sales, or ¥1,022 billion in 2018. More than three-quarters of motorcycle sales occur in emerging markets, while developed markets account for 24% of sales.
In 2018, motorcycle sales declined in both developed and emerging markets, contributing to a -2.2% drop in the segment, while volumes were also down for the year by -0.3% to 5.37 million units globally.
Yamaha said the decline in the motorcycle business resulted in flat Net Sales for the company overall which rose just +0.2% to ¥1,673 billion ($15.2bn). The drop-off in motorcycle sales – together with currency losses and higher raw material costs – also led to a decline of 8% in Net Income (attributable to the parent company) for the year to ¥93.4 billion.
Outlook
Yamaha Motor has forecast modest growth of 2% for Net Sales in 2019 and another decline in Net Income of -9% to ¥85 billion based on increased development costs, as well as a continuation of the same uncertainties and headwinds seen in 2019 including exchange rate loses and rising raw material costs.
However, the company is optimistic about the future as revealed in a new strategic plan released in December setting a target for Group Net Sales of ¥2 trillion for 2021, with forecast increases of existing business in its Mobility, Marine and Robotic segments.
In the Marine division, the company is looking to achieve Net Sales of ¥374 billion by 2021 through expansion of its 'integrated marine business strategy', evolution as a system supplier, and new product development, as well as long-term sustainability of the world's oceans.
Product development will be focused on next generation steering systems, smart boat packages, electric propulsion units and larger outboards.
Yamaha said it will also be reviewing the production footprint for outboard motors to improve capacity and flexibility, as well as addressing the demand for higher power outboards. The Group currently produces large and medium size outboard models at two facilities in Japan, and smaller models in Thailand.
Yamaha projects that outboard motors will account for 90% of propulsion units in North America by 2021, with a continued shift towards larger outboards in +100hp and +200hp segments in both North America and Europe.
Note: Exchange rates used by Yamaha Motor for the 2018 fiscal year were ¥110 to the U.S. dollar (an appreciation of ¥2, year on year) and ¥130 to the euro (a depreciation of ¥3).