€215m upgrade of lock, bridges boon for Dutch superyacht yards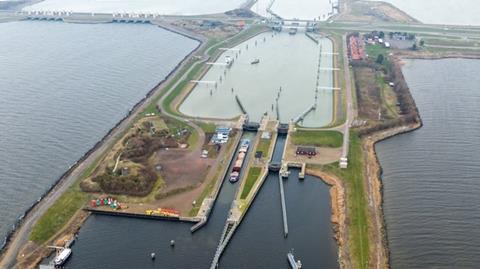 Work is to begin soon on enlarging a sea lock and two bridges in the Netherlands, enabling half a dozen superyacht-makers to build bigger and do more refits – work more profitable than building new.
The bridges and lock are set in a 32km causeway that, since 1932, has kept the North Sea out of Holland and created a big, freshwater lake in the heart of the country.
Estimated at €215m, the works are to be completed by 2023. They involve widening one lock from 14m to 25m and deepening it from 3.8m to 5.5m. A second lock remains at 9m wide and 3.8m deep. Also, two bridges will be lengthened.
A 44-page cost-benefit study by Witteveen+Bos, an engineering and consultancy firm active in 11 countries, sees an economic godsend for the maritime sector, notably superyacht-builders keen to "acquire additional refit orders" for yachts with 18m-22m beams. These don't fit through the Kornwerderzand lock now.
The study cites Jongert, Koninklijke de Vries, Balk Shipyards, Hartman Yachts, Royal Huisman and Vitters Shipyard as prime beneficiaries of the public works project.
It sees additional refits generating extra annual profits of between €9m and €15m, depending on overall economic conditions. The report puts refit profits at "14% to 15%" of turnover, adding the latter are bound to grow by as much as €100m a year once the Kornwerderzand lock has been upgraded.
Refits yield "higher margins than the roughly 5% currently realised in the construction of superyachts," says the report. "This explains why for these companies refits of large superyachts are the most important motive for better accessibility" to the open sea.
In defence of better access, the report says in the refit market "brand loyalty plays an important role in winning orders." But unless Dutch refitters keep up with advancing specialisation in equipment or sustainability, orders will go abroad.
Better access to the open sea also means cost savings, notably in yacht deliveries, resulting in more efficient shipbuilding, the report concluded.
The lock and bridges project gives Dutch builders a bigger, northern exit to the North Sea. They may opt for a western exit through Amsterdam, but upgrading that route was less beneficial to the Dutch superyacht sector, according to the Witteveen+Bos report.