Five shows in five countries in five weeks
With the opening tomorrow of the 42nd edition of the Cannes Yachting Festival (CYF2019), the busy European autumn boat show calendar will commence, covering leading marine leisure markets in France, the UK, Italy, Monaco and Spain. The shows are being held in Cannes, Southampton, Genoa, Monaco and Barcelona between September 10 and October 13, 2019.
Against the background of US-China trade sanctions, Brexit, challenging economic situations in markets such as Italy and Germany, and fears over the future of the global economy, visitors to these shows will be trying to gauge the strengths of boating markets in a number of regions and countries.
Outlines of the events are as follows:
Cannes Yachting Festival (CYF2019)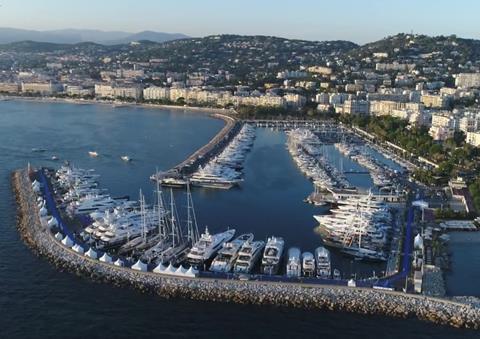 Running from September 10-15 and located at the Vieux Port and Port Canto in Cannes Bay, CYF comprises some 600 exhibitors, 650 boats and usually attracts over 50,000 visitors. There are some 210 new releases, including nearly 130 world premieres.
The big change for CYF 2019 is the sailing craft. Both monohulls and multihulls have been relocated from the Vieux Port to Port Canto. The latter will host around 120 sail craft as well as the near 50-strong fleet of brokerage yachts from 22m-65m (72ft-213ft). The layout at Vieux port has been reconfigured to give more space for the motorboats and all the other services and products that go to make-up Europe's largest in-water boat show.
Sylvie Ernoult, director of the Cannes Yachting Festival, said: "We can't wait to open our doors so that our visitors have the best experience while discovering the must-have international offering in motorboats and sailing boats. The reorganised Vieux Port will let them 'navigate' more easily between the different boat categories as the Cannes Yachting Festival showcases motorboats from 10m (39ft) to 50m (164ft)."
She added: "The 'Sailing Area' at Port Canto will be a major first and we can't wait to unveil it to our visitors who will no doubt be impressed by the unique content of this showcase."
CYF 2019 will have 10km in overall boat length, 3.7km of floating pontoons installed, 542 boats in-water including 168 yachts over 20m long, 284 boats under 15m long, 100 or so boats under 10m in length exhibited on land, 120 new monohull and multihull sailboats and more than 90 semi-rigid boats.
Southampton International Boat Show
The UK's leading marine recreational event, especially now the London Boat Show is no more, the Southampton International Boat Show with lead sponsor Borrow-A-Boat will be held September 13-22 at Mayflower Park in Southampton. It will offer visitors over 300 boats and yachts with over 600 brands of craft, equipment, services and other products being exhibited.
Genoa International Boat Show
Being held September 19-24, the 59th Genoa International Boat Show will have over 1,000 vessels on show both in-water and on land. There are over 980 exhibitors; over 150 buyers visiting from some 25 countries, and 98 other events including conferences, roundtables and other initiatives are organised to be held alongside the Genoa show.
The key sponsors for the show are BMW, Breitling and Fastweb and it is organised by Italian marine industry association UCINA.
The 2019 edition will take place in an economic context that sees the recreational boating sector as healthy as ever this year. The overwhelming success of last year's "multi-specialised" format, whereby visitors experienced four specialised boat shows in one, will be back for the 59th edition, offering a Tech Trade Show tailored to the components and accessories sector, a Sailing Show (Sailing World), a show for the world of outboards (Boat Discovery) and a show dedicated exclusively to yachts and superyachts.
Alessandro Campagna, commercial director of the Genoa International Boat Show, said: "The base line of this year's edition is the exhibitors' requests for much greater display spaces than what we currently have at our disposal (28% more requests from the world of yachts and superyachts, 48% more for sailing, a staggering 73% for outboards and 35% for accessories). The exhibitors have reached 986, and the vessels on display will be over 1,000, with new brands taking part including Gulf Craft, Canados, Sunbeam, Franchini Yachts, Maxi Dolphin, Greenline, Axopar, Nadir Yacht, Solaris Power, Cayman Yachts, Coming Solutions, Excess Catamaran, Leopard Catamaran and Delta Catamarans."
Monaco Yacht Show (MYS 2019)
Running September 25-28 in the iconic Port Hercule, MYS 2019 will present over 120 superyachts of which 42 will be new launches. This premier industry event annually attracts some 30,000 people, of which 20% are private visitors, to view the yachts and the near 600 exhibitors.
Barcelona International Boat Show
Being held October 9-13, this key Spanish event will include more than 300 exhibitors and 700 boats on the España and Fusta docks in Barcelona's Port Vell. The main focus this year will be on sustainability and innovation. The show is organised by Fira de Barcelona in partnership with the National Association of Nautical Companies (ANEN).