The three-day race begins tomorrow in Tolo Harbour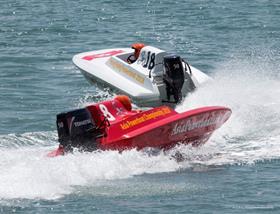 The high-speed sport of powerboat racing is having its first Asian championship in Hong Kong tomorrow. Organised by the Asia Powerboat Association led by Martin Lai, Jacky Kong and Mark Tribe from Asia Powerboat Development Ltd, the 1st Asia Powerboat Championship will be held from November 9-11 in Tolo Harbour, in front of the Ma On Shan/Wu Kai Sha promenade.
The three-day event is supported by the Hong Kong Tourist Association.
According to a press release issued by the Asia Yacht Press in Hong Kong, 12 new 4.55m T750 class boats powered by Tohatsu 50hp outboards have been built in China and were specially designed by naval architect John Guille for the Asian series. They will be fully tested by international helmsmen coming from Hong Kong, China, the UK, Australia, Belgium and Iceland.
Martin Lai, the world's only Chinese powerboat racing champion, is the driving force behind the association and the championship event. "These boats are small, fast, and have a top speed of around 85kph, which feels twice as fast when you are that close to the water," he says.
At the ceremony to launch the Asian Powerboat Association (APA) and the Asia Powerboat Carnival, Chief Secretary for Administration Matthew Cheung Kin-chung congratulated the APA on launching such a large-scale international sporting event, saying: "I am looking forward to the event and hope it will prove to be a great success."
Over 250 guests attended the launch ceremony for the event. The Hong Kong Special Administrative Region (SAR) government is actively supporting and promoting watersports projects, and the Home Affairs Bureau has been assisting the national sports associations to organise international watersports activities such as the Volvo Ocean Race stopover that was held earlier this year at Kai Tak Runway Park.