This year's theme was 'sustainability'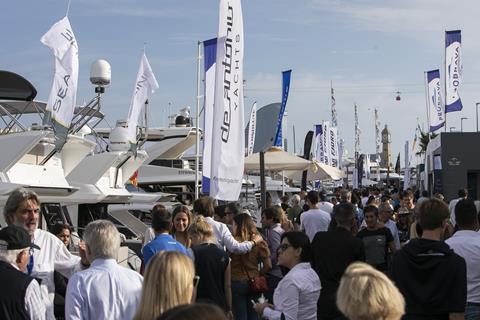 The 2019 Barcelona International Boat Show ended its five-day run on Sunday, bringing its most sustainable edition ever to a close.
Organised by Fira de Barcelona in partnership with Spanish marine industry association ANEN, this year's event focused on sustainability, innovation and networking – consolidating it as the largest commercial platform for recreational boating in Spain and one of the most important in Europe.
Solar, electric or hybrid boats, swimsuits made from plastic collected from the sea, and initiatives to help bring an end to marine pollution all featured heavily.
"The activity carried out over these five days shows that the reactivation of the marine industry is real," says show president Luis Conde. "The Barcelona Boat Show sets the course that the sector must follow towards sustainability and innovation, focused on caring for and respecting our seas and oceans even more."
Around 290 exhibitors and more than 700 boats (including 180 on water) were displayed over a 26,000sq m area of space, making it one of the biggest shows of recent years.
Among the numerous new launches presented were three 100% electric boats, several hybrid boats and a solar-powered catamaran from La Bella Verde-IBI Foundation, which also won the second edition of the Nautic Tech Professional Investment Forum for its project "Cleaning our Oceans".
The presence of 23 catamarans, 20 sailing boats and 15 boats nominated for the prestigious European Yacht of the Year award (eight in the sailing boat category and seven in the motorboat category) was another great attraction.
Show director Jordi Freixas thanked all participants for their support. "They have presented outstanding new releases and seen a great deal of business activity, which has resulted in an increase in sales," he said. Freixas also welcomed the large number of attendees, both professionals and the general public, who filled the Port Vell venue. Around 57,000 visitors attended the show, the largest contingents being from France, Russia, Italy and the UK.