Moving sailboats to Port Canto proves to be a good move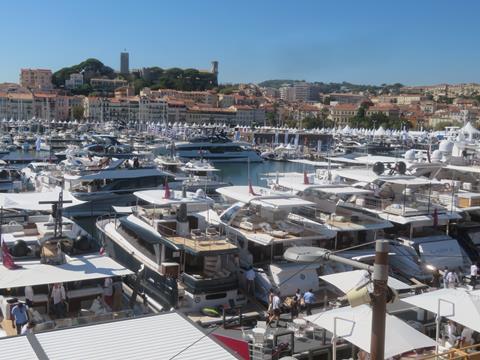 The 2019 Cannes Yachting Festival achieved a very successful outcome, despite the first day being a wash-out with heavy rain. The major change in the layout of this leading European boat show, namely the move of the sailing craft, both monohulls and multihulls, to Port Pierre Canto, appears to have been a very successful relocation.
A good number of sailing craft exhibitors all agreed that that change was very successful and that it allowed the sector to expand. Around 120 monohull and multihull sailing yachts were displayed at Port Canto, presenting a simpler and more accessible layout for visitors.
Also at Port Canto, the traditional brokerage vessels part of CYF with yachts offered for sale, charter or both, also reported an active attendance with people knowing about what they were looking for. Several of the brokerage houses spoken to by IBI anticipated that with the interested shown – not on the first day because of the rain and the last day being slow – that sales were likely to follow and charters also.
One broker who wanted to remain anonymous said: "There is a very good line-up this year and with the quality of the people that we have seen, it will be a good event for us; possibly the best we have had." Nearly 50 yachts between 22m-65m comprised the brokerage section, including 10 yachts over 40m.
The switch of the sailing craft to Port Canto meant all the powerboats and yachts had more space. In particular, the presentation of power catamarans was seen as a particular benefit of the new layout.
In terms of statistics, well over 50,000 visitors were recorded despite the bad weather on the first day. There were around 640 boats and yachts between 2.1m-55m displayed by some 542 exhibitors including 210 shipyards from 33 countries. As a measure of CYF's success, it was chosen by builders to present 122 world premieres with over 219 debuts featuring, be they global, European, regional, national or show.
Many of the exhibitors located in the Vieux Port spoken to by IBI said there was a high level of satisfaction with a good number of orders being reported along with a strong amount of quality enquiries to be followed up after the show.