Visitor attendance was up 8% this year to just over 188,000 people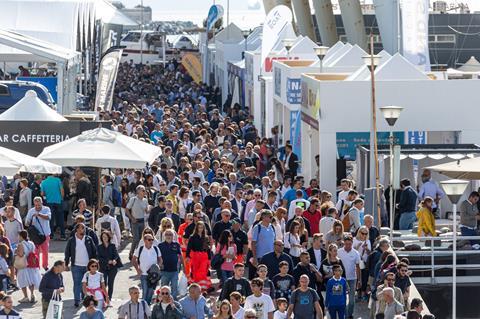 The 2019 Genoa International Boat Show ended its six-day run on September 24 with 188,404 visitors having passed through the gates – up 8% over the 2018 edition. Peak numbers were reached on the Saturday, with 43,000 people in one day alone.
During the closing press conference, show president Carla Demaria said: "The number of visitors is not the only key aspect to take into consideration. Exhibitors' satisfaction is also of key importance. This year they recorded a greater level of certainty and a higher number of contracts signed. We will undoubtedly need greater space for the future. This is the value created by the Genoa International Boat Show."
Event organiser UCINA, Italy's marine industry association, also confirmed that next year's 60th edition of the show will be held from September 17-22, 2020.
"Every aspect of the Genoa International Boat Show is growing and next year's will see us work even harder on the events calendar for initiatives taking place throughout Genoa, so that everyone can enjoy the benefits," said Genoa Mayor Marco Bucci.
"Yesterday we announced that Genoa will be the finish for the final leg of The Ocean Race, this is an enormous accomplishment, working together is key for developing new opportunities."
During the conference, Saverio Cecchi, president of UCINA, said the association had signed a 10-year protocol with the relevant institutions to invest and strengthen next year's event. "Today is a very important day, because UCINA reconfirms its commitment to the city of Genoa, signing along with all of the relevant institutions a 10-year protocol that will allow us to invest in and strengthen a show that has once again shown the world how it is a fundamental tool for developing our businesses," he said.
The 2019 Genoa International Boat Show hosted 986 exhibitors from 28 countries and five continents, providing over 200,000sq m of display area on water and land for over 1,000 vessels on display.