Over 13,000 visitors attended three-day event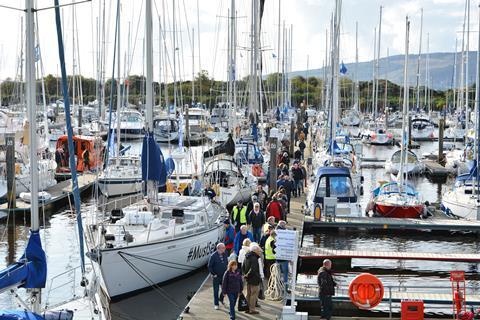 The 2019 Scottish Boat Show (SBS 2019) was described as "a roaring success" by a number of exhibitors. The event, the largest of its kind in Scotland and the second largest show in the UK, was attended by more than 13,000 people over its three days – a small increase on the previous year.
SBS 2019 was held from October 11-13 at Kip Marina in Inverclyde and included an expanded layout and a large selection of new and pre-owned boats for visitors to view. Over 120 exhibitors presentied a range of motor and sailing yachts plus all the equipment and services that align with the boats.
SBS2019 was very much a family event with a host of attractions, from free on-water training sessions with RYA Scotland giving novices their first boat handling experience, to the latest displays of marine equipment and technology from the UK's leading companies.
The buoyant Scottish boating market was in full force, with Michael Schmidt & Partners Brokerage Manager, Roseann Sweeney, commenting: "With over 10 boats sold during the show and a host of strong enquiries to follow up afterwards, Scotland's Boat Show was absolutely fantastic for us this year."
In the new boat business, Miles Stratton of Inspiration Marine, said: "It was great to see the good weather back this year and with it we were delighted with the high level of interest in our new Hanses and our latest addition Ballistic RIBS. For us it was a roaring success and we are already looking forward to next year's show."
The expanded display of powerboats from Marine Sales Scotland attracted many visitors during the show. Managing director, Stan Prosser, said: "We are delighted being at Scotland's Boat Show - it was better for us than Southampton this year as we sold five boats during the show including a Fairline Squadron. We are happy to support SBS and it is again proving to be the must attend event for boating in Scotland."
On shore the RYA Scotland pavilion was filled with exhibitors showing the latest trends and developments in boats and equipment including the Scottish debut of the world's leading charter company, Dream Yacht Charter, whose team were on hand to discuss their bareboat, crewed or by the cabin charters around the world.
DYC's Andy Byham said: "It was an absolute pleasure to be part of this year's Scotland's Boat Show. Having met some of the area's keen sailors, we are thrilled to have started what we hope will be a long and fruitful relationship with the team at Kip Marina. We look forward to welcoming guests to our stand again in 2020 when the Show celebrates its Year of Coasts & Waters River of Light."