The 2019 HISWA In-Water Boat Show will have more than 300 boats afloat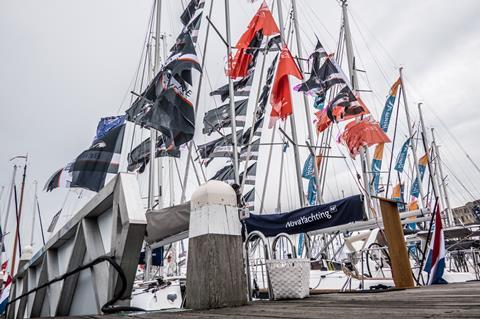 More than 300 boats with a total length or around 3km will be on display from September 4-8 at this year's HISWA In-Water Boat Show in Lelystad in the Netherlands – 12% more than last year's edition.
With still two months to go, preparations for the show are in full swing. In consultation with the exhibitors, HISWA has further optimised the layout of the Batavia Haven so that boats are placed stern to the quay, providing a better total view.
Many exhibitors will be presenting new models on exclusive floating pavilions. Exhibitors who have chosen a branded pavilion are Isloep, Interboat, Hanse, Aquatec, Prins Watersport, Mercury, Honda, Suzuki, Nimbus, Yamaha, SeaFury, Boot aan Stroom, Lengers, Saffier, Najad and Rapsody.
A new feature this year is the Golden Boulevard, where yachts of over 15m in length will displayed. Exhibitors include Princess, Fairline, Holterman, Zealander, Contest, Sturier, Prestige, Bluegame, Sacs, Mulder, De Valk, Wajer and Steeler.
The average boat length at the 36th HISWA show will be 9.98m. With a length of 25m, the Princess 75Y will be the longest and a RIB of 2.5m the smallest. All boat segments will be represented – from wood, polyester to steel and from sailing and motor yachts, tenders to sloops.
According to HISWA, catamarans and trimarans are a growing trend. "You can see that more and more individuals are opting for the comfort and good sailing characteristics of these types of yachts, which are very suitable for long trips and holidays," says sales manager Alex Hoeve. "At the HISWA we have several firsts such as the Fountaine Pajot 42 and the Lagoon 46. The DragonFly trimaran is also present with a demonstration how you can turn a trimaran into a monohull."
Electric boating is another topical subject that HISWA will cater to via the new 'Boot aan Stroom Pavilion', where visitors can raise questions about electric sailing.
Along with a wide selection of motorboats and outboard engine brands, the 2019 HISWA In-Water Boat Show will also host a varied range of sailing yachts. Bavaria, back in business since late 2018, will be there with several new models, as well as Najad.
Last year's HISWA In-Water Boat Show attracted around 23,000 people.