Around 2,000 exhibitors and 1,500 craft on display in 16 halls
With the London Boat Show no more, the privilege of opening the European boat show season goes to boot Düsseldorf, which is celebrating its 50th edition this year. The huge gathering runs from January 19-27 at the Messe Düsseldorf exhibition centre.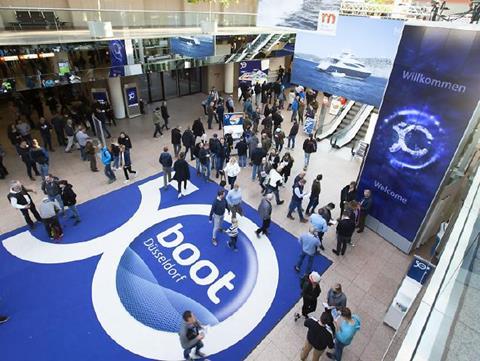 Some 2,000 exhibitors from over 70 countries will be accommodated in 16 halls covering 220,000sq m of space, making it the largest indoor leisure marine event in the world. There will be around 1,500 boats and yachts, from the smallest boats up to large superyachts of around 24m (79ft) in length.
Of the exhibitors, 60% are from 73 countries outside Germany, including exotic diving locations like Bonaire, Palau and, for the first time, Oman.
Boot Düsseldorf claims to be the only trade fair in the world that offers such variety, in such depth, for the recreational marine sector. The range of products on show is unique, with manufacturers from all over the world participating.
This year the luxury segment at boot is bigger than ever. Apart from large superyachts, luxury tenders or what are known as 'chase boats' are becoming increasingly popular. A chase boat is larger and more luxurious than a normal tender and is not parked in the main yacht's garage. Prominent suppliers of such boats will include Sacs, Wally and Skipper. Large-scale manufacturers like Fairline, Princess, Cranchi, Fjord and many others will be presenting their latest developments in this field too.
All manufacturers of high-class boats and yachts will be located in either Hall 5 (luxury tenders), Hall 6 (luxury yachts and tenders) or Hall 7a (superyachts).
Another trend at boot is shared or 'fractional' ownership of a luxury yacht, and there are several companies marketing such options at the show.
Halls 15 to 17 are home to sailing yachts. All stand space is full in the sailing halls, which still form the heart of boot – even after 50 years. A trend this year seems to be developing towards large sailing yachts. At the start of January, an Oyster 675 from Southampton in the UK arrived in Düsseldorf on the biggest pontoon that has ever brought boats to the trade fair.
Nautor's Swan, the Finnish supplier of large sailing yachts, is exhibiting the Swan 65 in a world premiere – the second-largest sailboat at the fair after the Oyster. Italian shipyard Solaris is presenting the new 44, which is suitable for both long-distance and competitive sailing.
Following the crisis it experienced in the spring, Bavaria is also back and is exhibiting its strong sailing yacht range. A large selection of multihulls are included in the halls.
Multihull boats – catamarans or trimarans – will also be in great demand again in 2019. They are ideal for beginners too, because their breadth gives the boats greater stability.
There are new features in the sailing field as well. The organisers of the Clipper Race are presenting their exciting regatta and the founder of Clipper, Sir Robin Knox-Johnston, is playing a key role in the show.