Riviera and Maritimo to unveil latest models at Palm Beach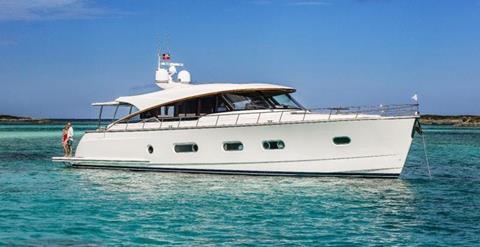 With the growing popularity of Australian-built luxury yachts in the North American market, two leading builders – Maritimo and Riviera – will both have a strong presence at the Palm Beach International Boat Show later this month.
The US is a key sales market for both companies, which are boosting their dealer networks in the region with the Palm Beach show following closely on the heels of Miami.
Riviera, Australia's most awarded luxury motoryacht builder, is using Palm Beach to premiere its new Belize 66 Sedan motoryacht in the US market. In total the company will be displaying four models at the show in conjunction with Riviera and Belize dealer, Grande Yachts International.
The display will also include the premiere of the sporty Riviera 395 SUV model, along with the Riviera 5400 Sport Yacht and blue-water 52 Enclosed Flybridge.
Grande Yachts International dealer principal, Bryan Braley, said: "These motoryachts epitomise the combined commitment of Riviera and Grande Yachts International to fulfilling the lifestyle dreams of America's discerning motoryacht owners.
"The accomplished international designers, engineers and master craftsmen at Riviera's yard in Australia are continually refining the designs and easy-to-use technology and equipment aboard these motoryachts that make the joy of Riviera ownership a sheer pleasure."
For Maritimo, the 34th Palm Beach show will see it present a significant on-water display, as the company looks to continue the strong sales success that it enjoyed at the Miami show. Maritimo premiered two of its 2019 enclosed flybridge models in Miami, resulting in a number of sales.
The Palm Beach show, the third largest in the US, will see Maritimo display three of its most popular models – the M54, M64 and X60 sport yacht with beach club cabana.
Maritimo Americas' president, Dave Northrop, said: "The X60 sport yacht with the aft beach club and versatile accommodations was a clear winner in terms of popularity at Miami, but with one or more orders for each model displayed the success was across the range. There is great anticipation for the Palm Beach show, which is rapidly becoming a favourite of Maritimo owners and enthusiasts."
Maritimo CEO, Garth Corbitt, said: "The sales success enjoyed at Fort Lauderdale and at Miami recently vindicated the massive financial investment the company had made in the expansion of its manufacturing plant on the Gold Coast in Queensland Australia last year. Our international strategic expansion is on track and the market in the USA was a major focus of that strategy."