Marina Port Vell hosting both MYBA and LYBRA events
Based on the fact that both MYBA (Worldwide Yachting Association) and LYBRA (Large Yacht Brokers Association) have both used and extended their planned usage of OneOcean Port Vell marina in Barcelona, it seems it is the ideal location for their respective events.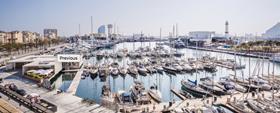 News today is that MYBA, which has used OneOcean Port Vell for its Charter Show over the past three years has extended its stay for at least another two years. LYBRA announced some time ago that it would continue to hold its event in Barcelona until at least 2020.
The renewed agreement between MYBA and the Barcelona facility hosts, will see the four-day trade show, widely accepted as one of the key events in the global yachting calendar, held at OneOcean Port Vell at least until 2021.
Gaye Joyeau-Bourgeois, MYBA president, commented: "The MYBA Charter Show is the first major event of the superyacht season for the charter sector and, it is owing to the world-class facilities of OneOcean Port Vell, a marina that can cater to a show of both this calibre and size, that we have chosen to celebrate the next two editions at this port."
Having previously been hosted for 28 years in the Italian cities of San Remo and Genoa, the move to OneOcean Port Vell in 2017 was a significant milestone for the Barcelona city centre marina which will now play host to this high-profile international event for a total of five consecutive years.
This news follows the success of the past two Shows, organised by MYBA, at OneOcean Port Vell. The 2018 Show, in fact, set an industry benchmark and some new records. The numbers speak for themselves: an exceptional line up of 53 superyachts with a total LOA of 2,521m, 96 exhibitors and a total of 1,885 attendees of whom 592 were brokers and central agents.
Ignacio Erroz, general manager of OneOcean Port Vell, said: "This is an exciting announcement not only for OneOcean Port Vell but for Barcelona as a superyacht hub. Accommodating this internationally-recognised show for five years firmly establishes Barcelona's position as one of Europe's primary superyacht destinations and is testament to the unrivalled facilities for owners, captains and crew that we have at this marina."