Parent company to Nitro and Tracker boat brands extends title sponsorship of prestigious US tournaments through 2021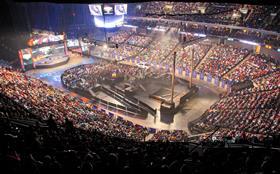 American fishing tackle retailer and multi-brand boat manufacturer Bass Pro Shops (BPS) has signed a three-year sponsorship agreement with the Bass Anglers Sportsman Society (B.A.S.S.) that will see the company's flagship Tracker and Nitro boat brands continue as title sponsors of several premier fishing tournaments across the US, including the Bassmaster Classic, the Bassmaster Elite Series, the Bassmaster Opens Series, B.A.S.S. Nation competitions, and the College and High School Series tournaments.
"Triton and Nitro are among the most popular bass boat brands in America today, and we are pleased that they will again be showcased through their sponsorship of the Classic, Bassmaster Elite Series and other Bassmaster competitions," says B.A.S.S. CEO, Bruce Akin. "This partnership not only serves our millions of fans and followers, but it also provides great opportunities for B.A.S.S. and Bass Pro Shops to reach new audiences and to grow the great sport of bass fishing."
Under the agreement, BPS brands will receive exhibit space at tournament venues including the Bassmaster Classic Outdoors Expo, Elite Series expos and other Bassmaster events, extending an existing sponsorship agreement through the end of the 2021 tournament season. The sponsorship further includes advertising and promotion on behalf of BPS brands in B.A.S.S. media, including Bassmaster and B.A.S.S. Times magazines, Bassmaster.com, Bassmaster LIVE programming and The Bassmasters TV show which airs on ESPN2.
"We're very proud to expand upon our longstanding support for B.A.S.S. through these significant partnerships with our fishing brands," says BPS founder, Johnny Morris. "B.A.S.S. events help us advance our goal to connect more people to nature by engaging people of all ages and skill levels to the great sport of fishing."