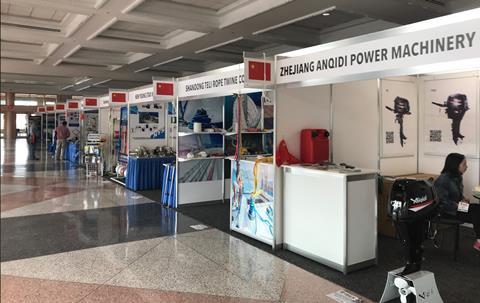 Despite the ongoing trade war between the US and China, a large pavilion of 22 Chinese exhibitors from rope makers to hardware and outboard engine manufacturers were on hand for the International Boatbuilders' Exhibition (IBEX) in Tampa, Florida this week.
The delegation is down from 31 last year, which is as much a function of available space as the current trade situation, according to Cynthia Tan, a manager with United International Conference and Exhibition Company (UICE), which organised the delegation.
"We have had some companies that did not come because of the tariffs," she told IBI, "and some companies are questioning if they will return next year."
First-time exhibitor Zeng Yan, general manager of Jiangsu Hoffen Industries, which makes stainless steel marine hardware, told IBI through an interpretor that his reason for being at IBEX is simple.
"For survival," he said. "No matter how difficult it is, the US market is still the biggest market," Yan explained, saying his US business is only off slightly.
The company is hoping to increase its US volume to offset the decline, as it has few other options.
"With a 25% tariff, there is no room to adjust the price; we are in a very competitive, low-margin [market segment]," Yan said.
Conversely, eight-year IBEX exhibitor Yang (Tom) Liang, sales and marketing vice president for Suzhou Parsun Power Machine Company, told IBI he fears the tariffs will be around for a long time. His business is down "significantly", he said.
Liang shares a sentiment with many US marine manufacturers. "It is the uncertainty. Today, the tariff is 30%, maybe tomorrow it will be 40%. We cannot prepare for the future.
"We and our partners are sharing the extra cost of the tariffs, we are working together, but still, for the American people, they will still have to pay a higher price. And that's not good for the people, and not good for industry," he said, adding he sees the tariffs having a long-term impact on many businesses beyond when the tariffs end.
Meanwhile, Florida Congressman Michael Waltz, a republican whose district includes several marine businesses, most notably Sea Ray, Boston Whaler, thinks the tariffs are starting to work.
"Broadly, I'm not a huge fan of tariffs, but I understand and support what the President is trying to do, especially, vis-a-vis China," Waltz told IBI on Monday. "The playing field wasn't level, they were putting many, many tariffs on us and not allowing us access to those markets. I think we're seeing that change, and the President is using whatever leverage he has to, to move that into a better direction.
"I hope we can get to the point – and the President said this at a G7 conference in Canada – where we drop all tariffs. On all sides. Because I'm convinced American companies can compete. And when given a level playing field, they will compete so I think this is a means to a better end."