Positive response from exhibitors at Allt på Sjön and Marstrand Boat Show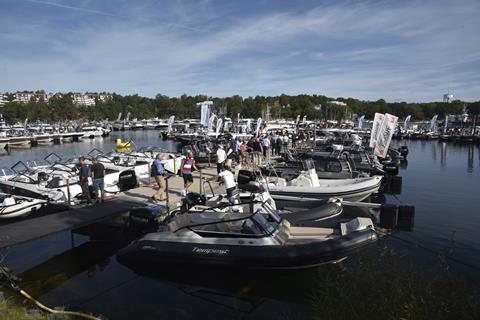 Two on-water boat shows held in Sweden in late August were met with strong consumer interest this year. Both events were organised by industry association Sweboat and offered free admittance as well as parking.
"We had some 25,000 visitors in Gustavsberg at the show called Allt på Sjön, which is the same as last year. But in Marstrand the attendance dropped a bit from 32,000 last year to 26,000 this year," says Malin Troberg Lindén, project manager for the Sweboat floating shows.
"We're very satisfied with the arrangements this year and we've had a lot of positive response from the exhibitors."
The Marstrand Boat Show, which closed on August 25 after three days, is arranged at the sailing metropolis with its fantastic surroundings. Around 200 boats were on display at the docks, while 60 exhibitors took part on land.
"We had an OK show, especially on the Saturday. In general the whole season has been very good, although we face long delivery and production times – especially for the bigger boats," says Carl Fornander at West Coast Marine Center at Marstrand. The company represents Windy Boats and Targa Boats.
Allt på Sjön, the Stockholm floating boat show, closed on September 1 after three days of good weather. Around 280 boats were on display in the harbour together with 90 exhibitors on land.
"We saw a very big interest from the audience planning to buy boats, but didn´t sell that many boats at the show," says Björn Sandhaag at Stockholm-based Marindepån.
Norwegian company Frydenbö Marine AS, representing several boat brands and Evinrude engines, reported good results.
"For us the Stockholm show was very good this year. Usually we don't sell boats directly during the show, but this year we sold five Nordkapps, three Stings and a Beneteau. The Marstrand show was also positive for us with two boats sold," says Michael Waax, sales manager for Sweden.
At the same time as the Marstrand Boat Show (August 23-25), Hallberg-Rassy held its 'Open Yard' at the facilities on Orust Island. Some 73 boats were on display at the sailing yacht show, of which 10 were new boats.