Despite attendance dip, exhibitors report good sales at 61st Toronto International Boat Show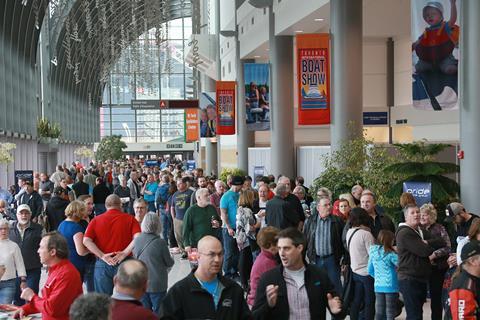 Boatbuilders and dealers exhibiting at the 61st Toronto International Boat Show appear pleased with the results of the 10-day event, despite lingering frustration over a 10% federal tariffs on US-made boats.
Attendance for North America's largest indoor boat show, which was held at the Enercare Centre on the Toronto Waterfront from January 18-27, was announced at 73,464, representing a 5% drop from the previous year. A strong start with record attendance at the show's Special Preview Day was blunted by the subsequent arrival of Toronto's first winter storm of the season, with significant snowfall, high winds and temperatures in the -20C range leading local police to advise residents to avoid non-essential travel.
An up-and-down weather pattern through the week and final weekend saw attendance improve to the point it nearly matched strong 2018 numbers.
In spite of the thinner crowds, many exhibitors reported good sales. "This year's show was much better than expected," said Bennington rep, Bob Spencer. "Our dealers have more leads to follow up than they've had in the past. We are very happy with the results in spite of today's economic climate."
For multi-line dealer Maple City Marine, thinner crowds had no measurable impact on sales. "We feel we are getting more quality attendees each and every year," said general manager Rob Rule. "Although the attendance was down, our sales were up."
The largest indoor boat show in North America with more than 1,200 boats on display, the Toronto event is widely seen as a barometer for the Canadian recreational boating market. Although exhibit space sold out two months before opening day, many exhibitors continued to harbour concerns about the potential impact of new 10% federal tariffs on boats imported from the US.
"Exhibitors were feeling unsure of what the retail environment would be," concedes show manager, Cynthia Hare. "However, our continued focus on helping more people become boaters and providing an experiential environment to grow knowledge contributed to a strong show and quality attendees."
Imtra Corporation's Don Hood was more succinct, noting his company had a "great show with strong sales results."
The 62nd Toronto International Boat Show will be held at the Enercare Centre from January 17-26, 2020.