The inaugural Thailand Yacht Show & RendezVous opened today at Royal Phuket Marina
The first edition of the Thailand Yacht Show & RendezVous (TYSRV) opened today and runs until January 13 at Royal Phuket Marina. The show takes a common-sense approach to the Asian boat show calendar in that it effectively combines what could have been three events into one.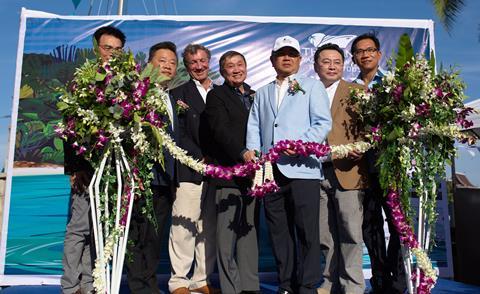 The three events were the annual Thailand Yacht Show, the Phuket RendezVous and what had been proposed as the Phuket Boat Show, which at one stage was set to be held the week before the 2019 Thailand Yacht Show.
TYSRV 2019 has attracted over 80 local and international exhibitors and some 40 boats and yachts afloat in the marina basin, plus two large superyachts at the show's superyacht hub on nearby Koh Rang Noi island. The two large vessels – the 73m (239ft) Lürssen-built Titania and the 54.2m (178ft) Talisman Maiton by Turquoise Yachts – are on display by Burgess.
The 40 or so yachts in the basin range in size from 6.5m-32.5m (21ft-106ft) and include brands such as Aquila, Bavaria, Beneteau (Prestige, Lagoon, Monte Carlo Yachts and Gran Turismo), Azimut, Sunseeker, Princess, Riviera, Ferretti, ITAC, Capelli, Numarine, Gulf Craft, Cranchi, Galeon and Fountaine Pajot. The two Asian brands exhibiting are ITAC Yachts from China and SPLO from South Korea.
Many brands are working in conjunction with their local dealers, with Simpson Marine, Lee Marine, Asia Marine and Boat Lagoon Yachting being to the fore. Alongside these are several exhibitors of marine equipment and systems, as well as luxury lifestyle areas such as property. The TYSRV 2018 also includes the second edition of the Christofle Yacht Style Awards.
Three yachts are also making their Asian debut at the show – the Princess F70, Leopard 50 and the Silent 55 solar-powered catamaran from Silent Yachts.