The move is in reponse to declining US exports
The National Marine Manufacturers Association (NMMA) is bringing its USA Pavilion concept from the METSTRADE Show to the Sydney International Boat Show in August, but opening participation to boatbuilders as well as boat component manufacturers.
Julie Balzano, NMMA Sr Director, Export Development, says the move is in response to declining US exports due to the trade and tariff wars and to encourage US manufacturers not to abandon export markets.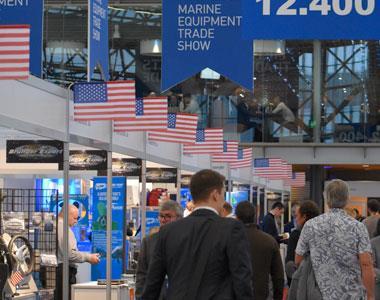 Balzano says some manufacturers are less concern about declining foreign market sales due to the robust boating economy in the US, but she warns against abandoning export markets. Australia and the Pacific Rim are not involved in the current tariffs wars currently plaguing US, Mexico, Canada, China and EU trading partners.
While a formal announcement and registration are still a month away, Balzano told IBI: "The states of Florida and North Carolina have already committed to allocating Export Trade Grant support to qualifying companies and four companies have already expressed interest in participating."
Balzano is meeting later this month with other states representative at a conference in Washington, DC "to get some others onboard to do the same." She told IBI that there is space for only 12 companies to participate and she anticipates the spaces will go fast.