Around 380 people attended Istion Yachting's W-way celebration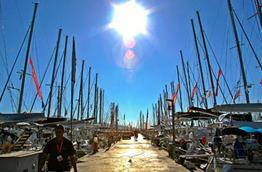 Greek charter firm Istion Yachting recently held its 2020 'W-way' celebration party at a privately booked event, featuring numerous guests from the Greek yachting community, delegates, friends and affiliates.
Istion Yachting commemorated Olympic champions Panagiotis Mantis and Pavlos Kagialis for their ongoing commitment and accomplishments to the Greek yachting industry, along with distinguished pioneers in the field of yachting.
The event attracted over 380 attendees.
CEO Ioannis Kourounis stated the importance of sharing a common goal "in regards to invigorating the Greek yachting industry through the core responsibility that binds us to keep working hard enough so that we can keep upgrading and expanding to reach greater heights for commercial tourism."
Istion Yachting was founded by Ioannis Kourounis in 1992. The company provides bareboat, skippered and fully crewed yacht charters anywhere in Greece, with bases in Athens and on the islands of Kos and Lefkada.