This year's event will be held from June 5-7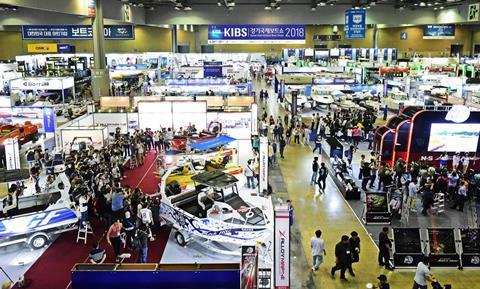 As reported by IBI earlier this month, the 13th Korea International Boat Show (KIBS) has been postponed. The organisers, the Korea International Exhibition Centre (KINTEX) in Seoul, have now announced the new dates – June 5-7, 2020.
Tim Coventry, special advisor to KIBS, told IBI: "Due to the outbreak of the novel coronavirus, it was decided to postpone KIBS from the original March dates. While we still have some weeks to run to the original show dates, by taking the responsible decision of postponing the event for three months we will give greater reassurance and certainty for our exhibitors and visitors.
"This year's KIBS is being combined with the Korea International Fishing Show and will attract higher visitor numbers," he continued. "The combined visitor numbers for both shows last year exceeded 90,000. The 2020 event will be Korea's largest leisure marine industry exhibition taking up three halls at KINTEX in Seoul. The new concept of combining with an existing recreational fishing show will leverage on the eight million active participants in angling and sea fishing in Korea."
Sea fishing has become extremely popular and is a large driver for the boating industry in Korea. This was revealed during a weekend visit to the most active boating location, Jeongok port near Seoul, by IBI's Asia correspondent last May. The trip showed strong growth over previous years in trailer-mounted boats used for fishing and island hopping, with packed trailer parks and slipways.
The latest Korea Coast Guard leisure boat registration figures show that there are 27,515 leisure boats registered in Korea – 17,963 motorboats and 5,914 PWCs, with a small number of sailing boats and other types of vessels accounting for the remaining 2,868 boats. However, many more boats are bypassing a registration system that seems to be unenforced. The most relevant indicator of the active boat park is boat driver licences issued under law by the police. The total licences issued reached 227,966 by 2018, some eight times more than the official numbers, raising speculation in industry circles about the high number of unregistered leisure boats in this market.
IBI also spoke to Dr Chung Hwan Kim, the KIBS show manager, last year about the joining of the two shows. "By combining the fishing and the boat show we will have the potential for over 90,000 visitors in 2020," he said. "In addition to the focus on fishing we will have special sections for luxury yachts, workboats, and some for divers with seminars and workshops both for consumers and the trade. The show will double in size to some 50,000sq m of floor space."