Early reports from several exhibitors indicate strong sales and new buyers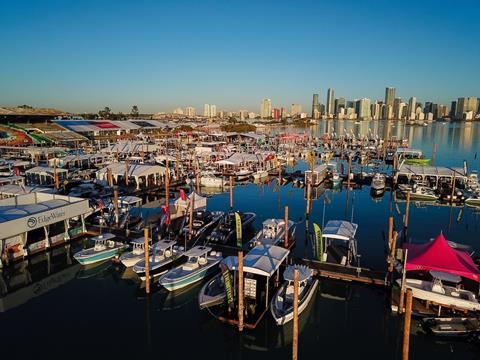 Despite a near record-breaking opening day crowd, the more than 82,000 people who visited this year's Miami International Boat Show (MIBS) represents a 10% decline in attendance for 2020 over last year.
Rainy weekend weather may have put a damper on attendance, however early reports from several exhibitors indicate strong sales – and importantly – new buyers, according to the National Marine Manufacturers Association (NMMA), which produces the show.
"We are happy to hear initial reports from our exhibitors that the 2020 Miami Boat Show was a strong sales event, reinforcing the healthy sales reports we're hearing from exhibitors at our boat shows across the country," Larry Berryman, show director and VP of Southern Shows, said in an NMMA statement.
Hosted at the iconic Miami Marine Stadium on Virginia Key, getting to and from the show can often be a traffic challenge, but improved transportation option in 2020 streamlined the process.
Transportation options included complimentary water taxis to and from downtown Miami, new water taxi service between the boat show and Miami Yacht Show, a partnership with Florida's Brightline train, more shuttle bus options, and a new video to help educate consumers on all transportation options. Use of the free shuttles and water taxis rose 46% in 2020.
On-Water Training Programs, hosted by BoatUS, provided fun, educational hands-on experiences for 162 boaters – a 40% increase in participation compared to last year. A Junior Captains' program provided a 90-minute, on-board powerboat seamanship lesson as well as sailing seminars for all ages.
Kids were a focus at the show, with its first-ever Boating Career Day, hosted by Miami Mayor Francis X Suarez to spotlight marine industry job opportunities to 65 students in attendance.
And with a proliferation of electric and hybrid-powered boats, MIBS' eco-friendly focus grew as well, with an expanded Costa Conservation Village, which added the new Volvo Penta Conservation Stage, presenting daily seminars on topics from sustainable fish to ocean conservancy.
NMMA and Costa – which makes high-end sunglasses – have moved to reduce single-use plastic water bottle consumption at MIBS by increasing the number of filtered watered stations at key points around the show. Attendees embraced the program, with more than 7,500 plastic water bottles saved from waste, compared to 5,000 in 2019, according to NMMA.
In announcing the early 2020 show results, NMMA also set date for the 2021 MIBS, which is scheduled for 11-15 February.