NMMA's Frank Hugelmeyer addresses first Miami gathering since becoming president in 2019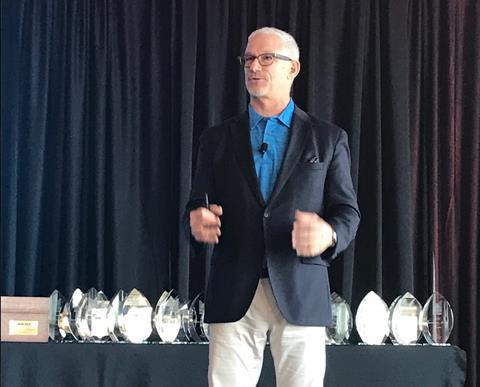 The US recreational marine industry needs to get loud with elected officials and work hard at recapturing lost market share, according to National Marine Manufacturing Association (NMMA) president Frank Hugelmeyer, addressing his first Miami International Boat Show (MIBS) Industry Breakfast since taking his position late in 2019.
"We are outpacing the growth of the US economy, helping to lift it up," Hugelmeyer told the assemblage, citing outdoor recreation growth of 3.4% against 2.4% growth in the overall economy.
Hugelmeyer said: "We can't get loud enough this year," in delivering that message to elected officials at all levels. "We are a major economic driver and employer, and our policies are important to the health and well-being of local communities and rural economies."
To that end, in addition to its regular advocacy activities and the American Boating Congress 12-14 May, NMMA will have a presence at the presidential nominating National Conventions of the Democratic and Republican parties providing boat demo rides and other on-water experiences.
At the same time, Hugelmeyer warned, the industry is losing out on new market share opportunities compared to the recreational vehicle (RV) industry, which has grown and – more importantly – retained first-time buyers through a "Good, Better, Best" strategy. The RV industry works hard to keep entry-level price points down, yet fully featured.
Conversely, Hugelmeyer said boating has not only "lost market share, we've given it a way, largely through a 'Better, Best' philosophy," which can be fixed, he suggests, but also through no fault of its own.
"Eight of 10 first-time boaters buy used, and 50% of them are gone in five years. 71% of new boat buyers remain after five years."
Most of those transactions are "driveway to driveway", between private sellers and not dealers.
In addition to easier entry into boating, Hugelmeyer said the industry must reach out to more diverse participants, culturally and geographically, and provide "experiences" that drive the more socially-oriented millennial market.
NMMA also honoured its retiring marketing chief Carl Blackwell, and Joe Lewis, Mount Dora Boating Center & Marina, with the 2020 Charles Chapman Award and Bill Watters, President of Syntec Industries, with the 2020 Alan J Freedman Memorial Leadership Award.
Some 62 boat and engine manufacturers received Marine Industry Customer Satisfaction Index Awards, and 18 products received 2020 Innovation Awards.