The Tahitian Islands currently receive an average of over 50 superyachts a year
Tahiti Tourism is stepping up its support of the superyacht market by creating a cluster of committed yachting professionals. This is designed to meet the challenge of 2021, when the number of visiting superyachts is expected to double in the Islands of Tahiti before, during and after the America's Cup in New Zealand.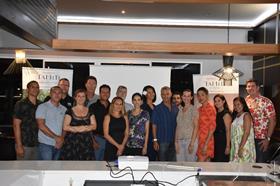 The islands currently receive an average of over 50 superyachts a year.
The founding members of the cluster are three major yacht service companies – Tahiti Superyacht Support, Tahiti Yacht Services and Tahiti Océan together with Tahiti Private Expeditions.
According to a statement issued by Tahiti Tourism, the cluster will bring their knowledge and experience in the industry to help Tahiti Tourism develop their promotion strategy for the superyacht sector.
"This year we kept the islands of Tahiti highly visible at two of the world's most important superyacht shows, Monaco and Ft Lauderdale, with our CEO Paul Sloan heading the Monaco delegation," reads the statement. "Our destination is on the rise with two new airlines servicing Tahiti. Coming to sail the Polynesian waters has never been easier."
The Ft Lauderdale Boat Show in October allowed Tahiti Tourism to advance several projects that had been developed at the Monaco Yacht Show. According to the statement, the Tahiti and Monaco superyacht clusters will seal their partnership in March 2019 and a superyacht economic impact study is also in the works.
Tahiti Tourism is also considering co-producing a video shoot which will focus on the superyacht experience guests can have in the Islands of Tahiti.
Tahiti is the largest island in French Polynesia, the South Pacific archipelago of 118 islands and atolls geographically scattered over an area of more than 4,500sq km. A popular vacation destination, it is located in the middle of the South Pacific Ocean, about 6,000km east of Brisbane, Australia and 7,700 km west of Lima, Peru.