The 45ft Evan Marshall-designed centre console is powered by four Verado 350 engines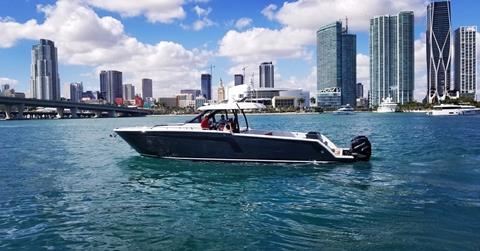 The first outboard-powered yacht from Ocean Alexander made its world debut at the 2019 Miami Yacht Show this month. Designed by Evan Marshall, the Divergence 45 is a centre-console design powered by four Mercury Verado 350 engines.
In addition to being the first-ever outboard model for Ocean Alexander, it is also the smallest production boat designed by Marshall. Marshall is a renowned designer of megayachts and this is his first entry into the centre console market.
Some of the most unique features of the Divergence 45 are the patented door-within-a door fold-out bulwarks on both port and starboard sides. This is the first US patent secured by Alexander Marine, the Taiwanese builder of the Ocean Alexander brand.
"During the design process, we realised how innovative and unique this concept was and acted to protect this creativity," says inventor Richard Allender. "The boat has a standard beam of 13'9" and when both bulwarks are extended, the beam becomes 19'1", giving immense space in the cockpit area.
"When the bulwarks are up, the door-within-a-door act as boarding entries from either side of the boat. When the bulwark is extended, you can also open the door and it becomes an easy access point."
The Divergence 45 is built at Alexander Marine's US facility in Merritt Island, Florida, where the Ocean Alexander 70e is also manufactured. The Divergence 45 also includes a wide list of options so that customers can tailor this boat to fit their exact needs.
Ocean Alexander is one of the top-selling brands for large yachts in the US and currently produces models from 70ft-120ft in length. The company has manufacturing facilities in Kaohsiung, Taiwan, as well as the US.