Organisers pleased with strong turnout for largest consumer boat show in Canada's national capital region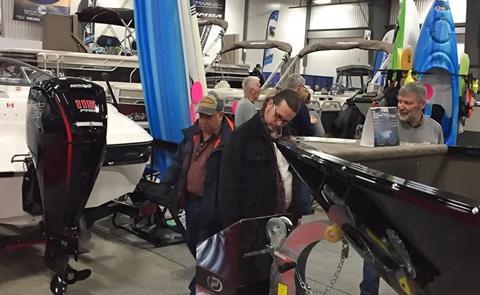 New show features and mild temperatures helped bolster crowds at the 44th Ottawa Boat Show, which was held from February 21-24 at the EY Centre in Canada's national capital.
Show organisers Master Promotions Ltd note attendance at this year's event approached the 10,000 mark, representing a gain of about 5% over the 2018 gate. While a well-timed mild spell that brought relief from weeks of brutal cold weather likely contributed to the attendance gain, the addition of new show features this year are also attributed to putting more consumers through the turnstiles.
"Some exciting new attractions, including free parking on Thursday and Friday, really brought out visitors on those days that are typically less crowded," said show manager, Scott Sprague. "We saw a lot of families on the Saturday, and dealers were pleased with the number of serious buyers out on the show floor throughout the event."
Additional show features, including enhanced fishing seminars and a new series of how-to boating seminars, further helped attract new boaters to the event, says Sprague. Show visitors enjoyed the opportunity to see more than 300 boats on display, along with a wide range of marine equipment.
Based in Halifax, Master Promotions is Canada's largest independent show producer, operating more than 30 consumer and trade events including the Halifax International Boat Show, the Moncton Boat Show and the BC Sportsmen's Show. The company acquired the Ottawa event from former owners Canadian National Sportsmen's Shows in 2017.