Sterndrives losing favour as 'go-fast' crowd adopt outboard engines with passion
Visitors walking the performance boating dock at the Fort Lauderdale International Boat Show (FLIBS) are seeing something different this year: no sterndrives. The so-called 'go-fast' boat crowd has adopted outboard engines with a passion.
"The dependability, the ease of use; they're just no headache anymore," said Mystic Powerboats owner and designer John Cosker in a dockside interview with IBI. "They're so powerful – we can build a centre console that goes 80 miles per hour."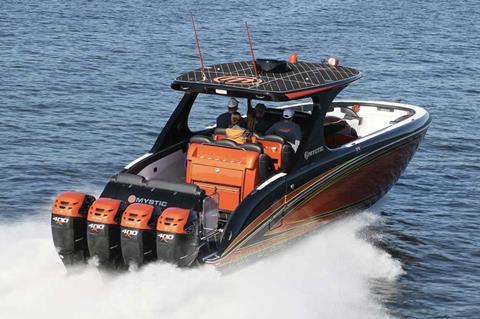 Cosker said his company has not built a sterndrive-powered boat since last year and that from a business standpoint, outboards make sense.
"They're gaining horsepower and not gaining weight; rigging time goes next to nothing," he said, explaining further, "We can take a pair of outboards off the truck this morning and the boat is in the water the next day. A set of sterndrives has weeks of work to get the exhaust in and the drives in. So business-wise, it's fantastic; the engines and rigging are cheaper and the cash flow is quicker."
One dock over, MTI owner Randy Scism has seen his customers embrace outboards, but still sells about half his boats with sterndrives.
"All of these engines are so user friendly it just blows me away," he said. "They start easy, don't smoke, don't sputter, don't stall out. They have all of the manners they didn't used to have."
Scism designed a new centre console and catamaran specifically for outboards from the water up, requiring new tooling and molds. "It's expensive, but you have to go with the way of the world or get left behind. I think it was a very good investment."
An MTI customer who purchased a centre console as a yacht tender two years ago was at the show looking for a newer model. Scism shared with IBI: "He's put 700 hours on them in two years, I mean, THAT's a boat. It just blows me away."