Exhibitors can now register online for the 2019 Genoa Boat Show in September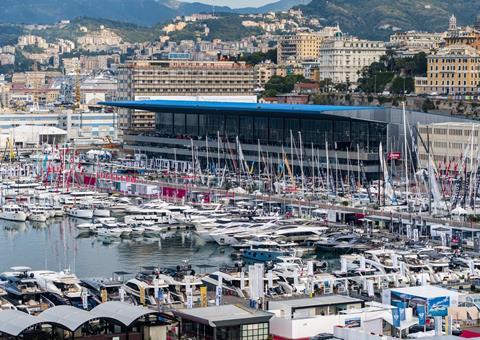 Registration for this year's Genoa Boat Show, which runs from September 19-24 in the port of Genoa, is now open.
Now in its 59th year, the 2019 show is expected to be even bigger than last year's event, having been heavily promoted by Italian marine industry association UCINA at IBEX, FLIBS, METSTRADE, boot Düsseldorf and most recently at the Dubai International Boat Show (DIBS).
Around 174,610 people attended last year's Genoa Boat Show, of which over 57,000 were from overseas.
"Over the last few months we have gathered statements from exhibitors at the previous edition, 100% of which have confirmed they will be returning along with this year's new additions, most of whom will be from overseas," says UCINA president Carla Demaria.
"Overall, we are expecting even greater numbers than last year's extraordinary outcome, where 951 exhibitors (a 7.6% increase from 2017) met 174,610 visitors (+17.8 from 2017), a sign that the show was able to consolidate its role as a key tool for businesses across the industry."
For the second year running, the Mediterranean's largest boat show will once again be applying the successful formula of one boat show with four distinct areas – yachts and superyachts, sailing, outboard motors and inflatable boats, and accessories and components.
"The entire layout of display areas used in the previous edition will be available again this year, with 115,000 sq m of water surface and 110,000 sq m on land," says Alessandro Campagna, commercial director of the Genoa show.
"We have also worked towards identifying new technical solutions for the rise in requests, from widening the piers which will broaden the areas used last year, to optimising a number of outdoor sections in order to ensure we take full advantage of the spaces at our disposal."
According to a recent survey, the exhibitor approval rating at last year's show was 98%. The latest data provided by UCINA's Market Research Department shows that the industry is benefitting from a positive trend. The growth rate predicted using the same sample for 2018 hints at a 9.5% rise in the Italian boating industry's global turnover for 2019.