More than 200 people representing approximately 90 firms attend US boatbuilder's annual supplier event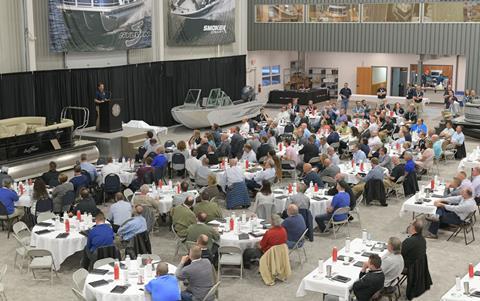 Multi-line US boatbuilder Smoker Craft Inc welcomed more than 200 individuals representing 90 of its suppliers to the company's 2019 Vendor Day, held earlier last week. The large turnout represented a new record attendance for the company's annual supplier meetings.
Hosted at its New Paris, Indiana manufacturing facility, 2016 Vendor Day represented an opportunity for partners in Smoker Craft's supply chain to learn first-hand about the company's strategic vision moving forward, including planned additions to its product lineup. Vendors were further treated to guided tours of the company's production facilities to better understand its manufacturing processes.
Agenda highlights included presentations from several members of Smoker Craft's senior leadership team, including president and CEO, Doug Smoker; senior vice president of marketing and corporate development, Peter Barrett; vice president of sales, Phil Smoker; vice president of engineering, Ryan Bergman; director of customer service, Andy Wolf; and vice president of purchasing, Dewayne Yoder.
"Vendor Day is a fantastic opportunity to bring our entire supplier network together under one roof and share our ideas and our vision," said Yoder. "The supplier network we work with aren't simply vendors, they're our partners in achieving a common goal of building great boats that will bring lifetimes of happy memories to families worldwide. Our heritage of building great boating memories spans more than 116 years, and it reflects the strong, cooperative relationship we enjoy with our industry partners."
With boat plants in Indiana and Oregon, Smoker Craft Inc manufactures a diverse line of fibreglass, pontoon and aluminium fishing boats that are sold worldwide under its Smoker Craft, Starcraft, Sylvan, SunChaser and StarWeld brands.