Exhibitor reactions were overwhelmingly positive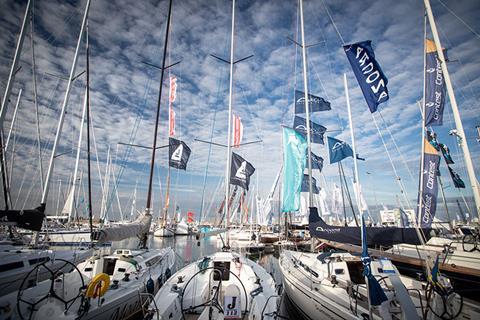 Despite very Dutch weather – leaden skies, sunny spells, thunderstorms on a loop – organisers of the 2019 HISWA-in-Water Boat Show say their event attracted nearly 30,000 visitors this month.
That was a record for the show's 36th annual edition. And, coupled with the Dutch sector's outlook for a 4.9% jump in business this year over 2018, it left smiles on many faces.
"We are very proud of this great influx," said HISWA-in-Water director Arjen Rahusen. His show displayed 320 boats in the water and had more than 100 quay-side stands.
In 2018, the Dutch in-water show moved from Amsterdam to Lelystad, an uneventful town on a vast lake in the heart of Holland. That was a good move: Lelystad's modern, crescent-shaped Bataviahaven is ideal for showing boats and the town is close to Germany, a key market for the Dutch boating sector.
Exhibitor reactions after the 2019 show were overwhelmingly positive.
"If 10% of my leads come true, I have a year's work," said Huub Kortlevens of houseboat charter Havenlodge. "We saw many new faces, new watersports enthusiasts with targeted interest," said Thijmen van de Loo of Newpoint Moverbo, which markets yacht services and luxury cats.
Key market trends spotted at the Dutch show: clear demand for onboard comfort and luxury, and much interest in electric sailing.
The 2019 HISWA-in-Water featured its first pavilion for electric sailing that offered trial drives by different brands. "We have let many people experience electric sailing. Engine prices are becoming more and more comparable with diesel and petrol engines," said Anton van Wijk of electric boat maker De Stille Boot.