The 8th Riviera and Belize Festival of Boating will be held onsite at Sanctuary Cove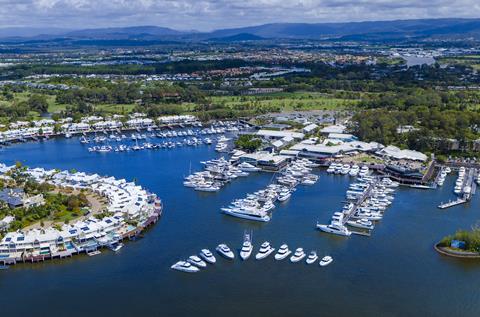 Australian motoryacht builder Riviera has announced that its popular Festival of Boating is moving this year to the Sanctuary Cove International Boat Show (SCIBS).
After several years based at Riviera's Coomera headquarters, the 8th Riviera and Belize Festival of Boating will take place at SCIBS from May 23-26, where the company will be hosting four world premieres.
While details of the new models are still secret, Riviera says they will form part of an 11-yacht showcase at the Riviera Motor Yacht Club located at the end of Sanctuary Cove Marina's Pier F.
"Sanctuary Cove offers our guests and Riviera and Belize owners an incredible array of venues to experience the boating inspiration, education and fun that the Festival of Boating has become famous for," says Riviera owner Rodney Longhurst.
SCIBS general manager Johan Hasser says Riviera's decision to host its festival and multiple world launches at Sanctuary Cove is a huge boost for the event. "We are thrilled that Rodney and his team have chosen SCIBS as the venue for the 2019 edition of the Riviera and Belize Festival of Boating," he says,
"The Festival has a proud history and we look forward to working with Riviera to ensure that its future is just as bright at Sanctuary Cove."
Selected models from Riviera's five collections of motoryachts – Sport Yachts, SUVs, Flybridge models, Sports motoryachts and classic-styled Belize motoryachts – will be on display in what will be the company's biggest showcase in one location in Australia this year.
"For almost four decades, Riviera has developed an internationally respected heritage, launching more than 5,400 yachts in this time, and these new motoryachts, the latest in a very distinguished line, will take our design and style to yet another level in luxury," Longhurst says.