The three-day commercial marine and workboat exhibition is also planning new areas with leisure marine features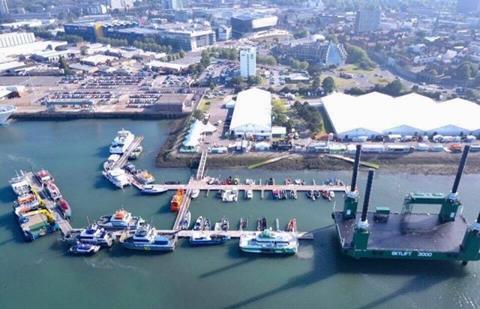 Following the success of the first Superyacht Build, Repair & Refit Trail at the 2018 Seawork Exhibition in the UK, the organisers are planning for a larger, second edition in 2019. In 2018, some 65 companies participated in the first Superyacht Trail.
The worlds of commercial marine and superyachts have more in common than one might think; technology, engineering, regulations, innovation. The sophisticated materials and techniques used to build large vessels, plus the similar needs in design, propulsion and support, demonstrate a clear overlap between commercial marine and the superyacht sector.
The scope of Seawork 2019, which is being held from June 11-13 at Mayflower Park in Southampton, will also include new areas which have leisure marine features associated with them. One of these will be the 2019 Marine & Coastal Civil Engineering Expo (M&CCE). This event was acquired earlier this year by Mercator Media, the organiser of Seawork and publisher of Boating Business and Maritime Journal magazines. As an event running concurrently with Seawork, the traditional two-day span of M&CCE will be extended to three days for 2019.
An involvement with the development and construction of marinas is an aspect of M&CCE which naturally links with the leisure marine market. In commenting on the purchase, Andrew Webster, the chief executive of Mercator, said: "There is a big overlap in content and business for people involved in marine construction from harbour masters (and marina managers) to consulting engineers, to operations managers and anyone in vessel and marine equipment deployment."
Another Seawork event is a new forum being hosted by Composites UK, a supporting association of Seawork. The forum will be held on June 11 and will cover such topics as sustainability and recycling, available support and skills, and the Composite Trailblazer Apprenticeship scheme.
Claire Whysall, Composites UK communications manager, said: "Following on from our member stand at last year's event we are delighted to be supporting Seawork again but this time on a larger scale. The forum session gives those new to fibre-reinforced polymer composites a helping hand as to where they can find support."
Seawork 2018 attracted 7,700 attendees from 70 countries and some 300 exhibitors. Among the supporting organisations for Seawork are British Marine, the MCA, the ABYA (Association of Yacht Brokers & Agents), the YBDSA (Yacht Brokers, Designers & Surveyors Association) and the YDSA (Yacht Designers & Surveyors Association).
As to the Superyacht Trail, last year long-standing Seawork exhibitor Landau UK, which supplies and fits electronic equipment, unveiled its new electroluminescent marine vessel directional strip lighting, used for both workboats and leisure craft purposes.
Landau UK's chief executive, Ben Metcalfe, commented: "We believe exhibiting at Seawork International is one of the most efficient ways for us to hear what commercial marine customers and suppliers might need from us right now. Bringing additional focus to the superyacht sector is ideal for us, as our offerings are used across commercial, leisure and superyacht audiences. It's also a great platform for us to network with like-minded individuals, showcase our latest products and services, and get feedback from purchasers and end users alike."
Ship Shape IMO, known for its multi-compliant bedding and mattresses, took Seawork 2018 as the opportunity to share the company's new extended ranges, including curtains, blinds, carpets, towels and storage solutions. Matt Nudd, senior commercial manager for Ship Shape IMO, said: "The market awareness of the IMO regulations around soft furnishings has improved considerably and that has enabled us to give our compliant products much more exposure to a receptive audience. Our new Wheelmark flooring, curtains and blinds were very well received."
Reintjes, a global specialist in propulsion technology, produces high-quality marine gearboxes for main drives as well as complex system solutions such as pod and hybrid drives. Reintjes' Britain and Ireland sales manager, Philip Martin, said the company had a good Seawork and that he considered it a significant improvement for Reintjes on last year. "Eighteen months of trading has seen a big uplift in our company profile and it was good to be able to see our existing and potential clients face to face," he said.