Next year's event will be held in late March instead of its traditional April slot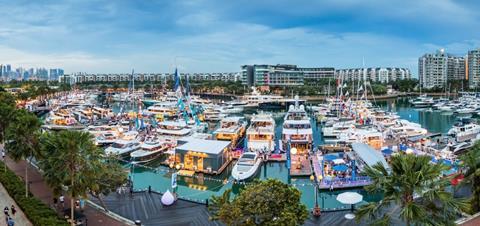 Next year's 10th edition of the Singapore Yacht Show (SYS) will see a significant change of timing, moving from its traditional April slot to March 19-22, 2020 – creating a cluster of Asian boat shows in the space of two weeks.
Preceding the Singapore Yacht Show, the Dubai International Boat Show (DIBS) will take place from March 10-14 almost simultaneously with the Taiwan International Boat Show (TIBS), which runs from March 12-15, giving a trio of events promoting the industry – ideal for exhibitors and trade visitors wishing to gauge the Asian market.
IBI spoke with Andy Treadwell, CEO of Singapore-based Verventia Pte Ltd, the owner and organiser of SYS. "The confirmation of the three-weeks earlier timing follows an overwhelmingly positive response from exhibitors and visitors to a suggestion that we should avoid the clashes of the past few years with the Easter, Songkran (Thai water festival) and Asian School holidays, as well as the ABACE Private Jet show in Shanghai.
"We should also benefit from the generally cooler and drier weather in Singapore from the New Year to the end of March. In the opinion of most of our experienced exhibitors and international industry stalwarts, this should increase our visitor numbers considerably."
SYS, which takes place at One°15 Marina, one of Singapore's flagship marinas on Sentosa Island, is a key event in Asia focusing on boats and yachts over 40ft with a strong emphasis on the superyacht market, which has seen considerable growth in the Asian region in the past 15 years.
According to the press release, SYS brings together custom and semi-custom superyacht builders, production boat manufacturers and a whole raft of luxury lifestyle brands, all displaying their latest innovations, design concepts and product launches.
"In addition to these global showcases, SYS 2020 will also deliver a truly immersive experience for those looking to discover the yachting lifestyle through a series of high-octane events and activities – including the Superyacht conference event immediately preceding the show. Yacht sales post the 2018 show were good but slightly down at the 2019 event this year which we feel was due to the conflict on dates with the holiday season which we are addressing for 2020."
The past 10 years have seen considerable development in the boating industry across the Asia region, even though somewhat tempered over the last four years by the anti- corruption crackdown in China.
"A decade ago most marinas across the region were half empty; now you will struggle to find a berth in all the major waterfront cities," says Treadwell. "Having said that, the industry in Asia is still relatively small given the huge potential the market holds. So we still have a lot of work to do. We need to get all the key industry players working together to develop the business in this amazing region. We need to collectively persuade the people and their governments alike to embrace the marine lifestyle and all the important economic and societal benefits it brings to local and national communities."