Several sales achieved and a good number of Asian and show premieres held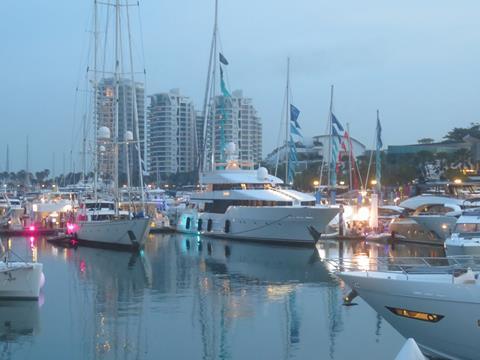 The 2019 Singapore Yacht Show (SYS) finished on a positive mood for many exhibitors, thanks to the sale of a number of yachts. There was generally thought to have been a smaller turnout than last year, but several exhibiting boatbuilders and dealers approached by IBI spoke of more knowledgeable and interested visitors attending the show.
Most, if not all, of the key boating brands either achieved sales or generated strong leads to follow up on after the show. There was also said to have been a good regional geographical spread of visitors not only from the main markets of Thailand, Singapore and Indonesia, but also lesser markets such as Vietnam, Cambodia and the Philippines.
Among the brands understood to have achieved sales were Aquila, Beneteau (including Lagoon), Azimut, Sunseeker, Ferretti and Princess.
The show had a good number of Asian and show premieres, including three from Princess Yachts, one from Palm Beach Yachts (Grand Banks Group), Azimut Yachts, Ferretti, SACS, Dufour Yachts, Sanlorenzo, Fairline and Sunseeker.
In terms of news coming out of the show, the announcement that Silver Yachts is going to build a new 35m (115ft) catamaran superyacht at a new shipyard in China near Zhuhai was of considerable interest.
Meanwhile, the Asia Pacific Superyacht Conference (APSC), held during SYS 2019, came in a new format this year, with one full opening day of presentations followed by three days of workshops. Overall attendance at the conference was down on previous years and attendance at the workshops varied widely. However, there was new information made available in the presentations which provided updates on specific market situations as well as insights into Asian practices when it comes to yachts.
Another active talking point was the prospect of a good quality international boat show in Hong Kong following the signing of an MOU between Verventia, the owner of the SYS, and the Hong Kong Cruise & Yacht Industry Association.