UK event returns to Southampton for its second edition in May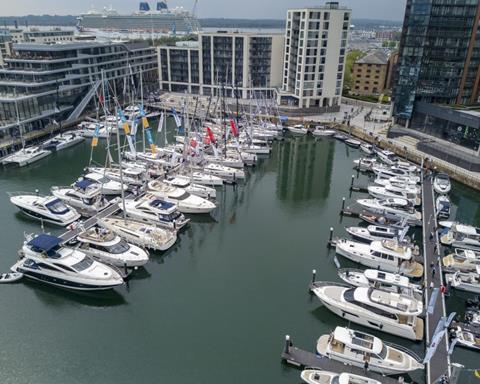 The 2020 South Coast Boat Show, the second edition of the UK event launched last year, is set to be larger with more international brands present. The show is scheduled to be held from May 15-17 at Southampton's Ocean Village Marina.
The South Coast Boat Show is aimed at serious buyers wanting to purchase in the coming 6-12 months. It is anticipated to have at least 50 new boats and is organised by the South Coast Boat Dealers Consortium.
This year more berths within Ocean Village Marina are being allocated to exhibitors, as last year the number of berths was insufficient. In addition to the on-water craft there will also be exhibitor stands for companies providing services, accessories, systems and equipment.
Marine electronics manufacturer Raymarine will be the main sponsor for the second year running. Raymarine's head of UK sales, Harry Heasman, said: "Given that we are a world leader in high-performance marine electronics, we are very interested in being part of this show's success story. The South Coast Boat Show offers a fantastic platform for our new product range.
"Last year we saw it attract consumers who were looking to invest in top quality products in the near future, so it makes sense for us to be there as a headline sponsor and to showcase our latest product range, including DockSense, our assisted docking system."
The organisers emphasise that the show is held at an appropriate time for buyers looking to purchases vessels in the 6m-18m (20ft-60ft) range, most probably in the summer of 2020. The show will include a number of local and regional brokers and dealers to assist in this process.
"The South Coast Boat Show will provide a magnificent showcase to global brands," commented Scott Farquharson, manager of the MDL-operated Ocean Village Marina. "We're really pleased that our marina has been chosen once again to host the event.
"We're expanding the show for 2020 as we've even more sail and power brands wanting to exhibit. They've obviously heard about the quality of the visitors to the show, and the benefits of business on our pontoons. Plus we're really excited to be creating a shore-side arena for additional related exhibitors, like insurance and finance."