Hallberg-Rassy, Anytec Boats and Nimbus all report strong sales and healthy interest at this year's Stockholm Boat Show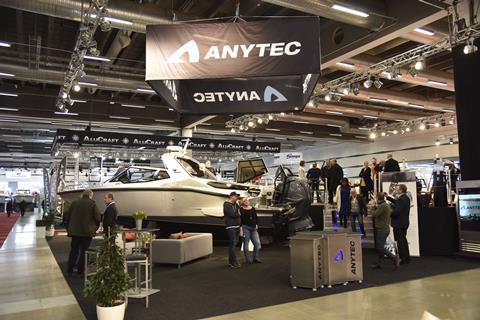 The 2019 Stockholm International Boat Show reported a drop in visitor numbers for the second year in a row. Just over 68,100 people (78,490 in 2018) attended the nine-day show, which closed on Sunday.
This year there were several large sailboats on display, with the new Hallberg-Rassy as the biggest. "We were satisfied with the Stockholm show," says Hallberg-Rassy CEO, Magnus Rassy. "Our 57ft boat is a very special boat to display at an indoor show and it received enormous attention and admiration."
Sweden is one of Hallberg-Rassy's largest markets, together with Germany and the UK. The yard says it has already sold lots of boats for delivery to these three regions for this year and next.
Most of the boats on display in Stockholm were motorboats, with a large proportion of aluminium boats.
Anytec Boats showed its new A30, which had its world premiere in Gothenburg in early February. "We had a better show in Stockholm than the latest years. It's not an enormous difference, but it's noticeable," says Anytec sales manager Johan Erixon.
"We sold all but one of the new A30 boats that we calculated for this season."
Nimbus Boats had a major stand with boats from Nimbus, Alukin aluminium boats and Axopar on display. The producer saw very quick response for its new flagship, the Nimbus T11.
"We sold a T11 to a customer just some minutes after the show opened, but the first one was sold before the show to a customer in Helsingborg in South Sweden," says Jonas Göthberg, commercial director at Nimbus Boats.
For the organisers, the drop in visitor numbers came as no big surprise, as the show this year was held "on its own" without any other show taking place at the same time. Next year the Stockholm International Boat Show will be held one week earlier to better fit the audience and school holidays for winter sports.
"If we compare the first seven days, we saw a 12.6% rise in visitor numbers," says Hanse Thorslund, project manager of the show. "But since we didn´t have any other shows happening at the same time, we lost visitors over the last weekend."
The next Stockholm International Boat Show will be held from March 6-15, 2020.