After a reasonably well-attended weekend, the prospects for weekday visitors look less promising if disruption continues
Despite the difficulties caused by widespread transport strikes across France and in the capital over the weekend, organisers of the 2019 Paris Nautic Boat Show were surprised to welcome a large number of visitors over the opening two days.
According to the Federation des Industries Nautiques (FIN), the attendance figure for Saturday and Sunday was down by only 10% compared with last year as visitors showed determination to get to the exhibition by one means or another during the weekend. However, Monday was less well attended and if the strikes continue through the week the adverse impact on attendance is likely to be considerable.
The industrial action is being supported by various major national unions in response the government's proposed pension reforms. Another statement is expected from the government tomorrow and it is hoped this might help to end the strikes and get more public transport moving again.
The Paris show is one of only two consumer boat shows in the world counting more than 200,000 visitors (under normal conditions). Dusseldorf ranks number one, with a reported 250,000 visitors in 2018, followed by Paris with 204,000. Genoa comes in third with 188,000 reported visitors last year.
The nine-day Paris event runs through Sunday, 15 December.
Dates for all of the key boat shows around the world for 2020 are available in IBI's just released 2020 International Boat Show Calendar, only available for download here. The printed version of the calendar will be distributed with the December/January issue of IBI magazine.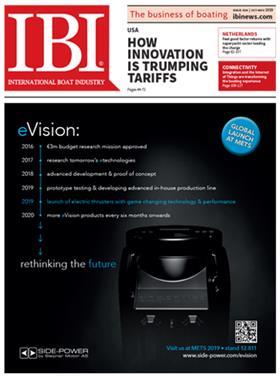 If you're currently not receiving IBI Magazine, sign for a complimentary subscription today!
Qualifying individuals working in the recreational boating industry
can subscribe – at no cost – to receive 6 issues of IBI Magazine annually - in print or digital format. Sign-up easily while registering or subscribing for any of our IBI News online options.
To personally receive every issue of IBI, just select print or digital format by registering here.