Mid-sized, outboard-powered boats from 5m-7m were particularly popular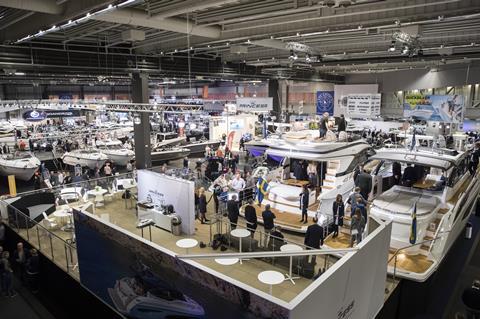 The 61st Gothenburg International Boat Show closed on Sunday with a 3% increase in the number of visitors (56,792 versus 58,490 in 2018) – evidence that interest in boating remains on a high level in Scandinavia.
The Gothenburg show is not the biggest in the Nordic region, but because it's the first of the year and traditionally seen as a sign of spring, it's normally an important indicator of how the market is moving.
There were many reports of good sales during the nine-day show, especially for mid-sized boats from 5m-7m with outboard engines. And among the exhibitors, the noises were positive after very good sales of boats and marine accessories.
"We experienced great demand and sold a total of 26 boats during the fair, which is more than last year," says Peter Rodin at Rodins Marin, which exhibited boats from Uttern and Grand. That the Swedes are still positive about boating holidays was confirmed by the many deals that were closed during the fair.
"It has been a wonderful fair. We can see that our exhibitors have sold incredibly well this year. Without having the figures clear, I dare say that sales have fared much better than last year, which was nevertheless a good year," says Gothenburg show manager Jacob Ryder.
"In recent years, we have invested heavily in attracting fun family activities. This year, visitors could try a surfing simulator, dive with tubes – which was much appreciated by visitors – or test smaller boats and floats in our try-on pool. During our seminars we have been able to present both known and unknown adventurers, who have shared their boat experiences, kayaking or sport fishing adventures from different parts of the world. And pretty much all seminars have been packed. In addition, our Beach Club with feel and flavours that take us into the summer has become popular – not least among families," Ryder adds.
Five models of electric boats were presented during the fair. One of them – One.Fly – had its world premiere. And the curiosity of the new technology and the boats was obvious among visitors. "The fair has really exceeded our expectations and we quickly reached our goal of 70 booked test runs," says Anton Simberg, CEO of Mantaray Hydrofoil Craft, which launched One.Fly at the show.
Overall, interest in more eco-friendly boats, engines and products was strong at this year's event; the environment was more in focus than in previous years. One full day focused on the environment with seminars on the sea and how to create a sustainable boating life.