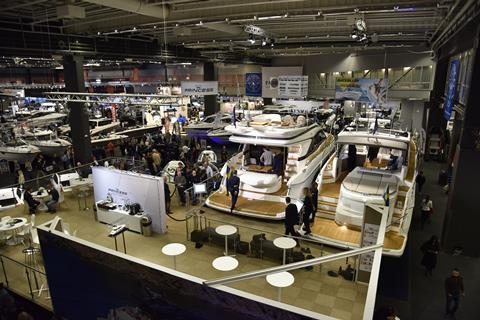 The Swedish pleasure boat market is still on a high level and the demand for more luxurious boats is obvious at this year's Gothenburg International Boat Show.
Last year more than 400 boats with a value of more than SEK 2m (€200,000) were sold in Sweden with its 10 million population.
The largest boat on display at the motorboat-dominated show is a Princess V50, but several Nordic boats are also there – Targa, Windy, Nimbus, Sargo and Fairline to name just some.
"Sales of big boats over 8m grew by approximately 10% last year, according to preliminary figures," says Mats Eriksson, CEO of Sweboat. "At the same time smaller boats are dominating but the sales in that segment haven't grown as much."
In total some 20,000 were sold in Sweden in 2019. Even if the major part were daycruisers and easy-to-handle family boats, more than 300 luxurious motorboats and almost 100 large sailing yachts were sold.
"That is slightly better than previous years and the result of a good economy in Sweden and an extremely hot summer in 2018," says Eriksson.
Some 30 of the 400 boats on display in Gothenburg measure 30ft or more, which is more than last year. A 6.8m-wide Lagoon 40 catamaran stands out among the boats. There is also high interest for electric boats, with a handful of electric motorboats produced in Sweden.
"We can also see a good focus for boating equipment and services. Besides, the show mirrors the growing interest in boat sharing, especially for owning part of a boat in warmer regions," says the show's business manager, Jacob Ryder.
The 2020 Gothenburg International Boat Show runs until February 9 at the Swedish Exhibition & Congress Center in Gothenburg.