Around 300 exhibitors with more than 500 boats attended this year's event in Finland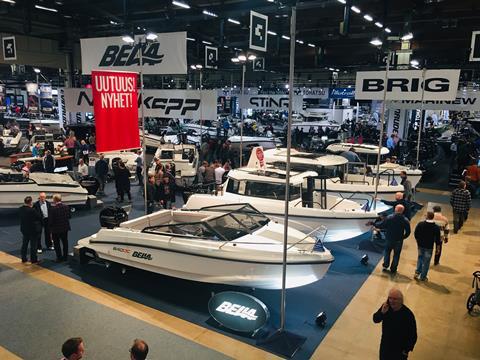 The Helsinki International Boat Show closed on Sunday, attracting just 1.2% more visitors (65,200) than last year.
The 10-day show normally offers a good selection of models covering the entire Finnish boating industry. This year, however, no sailing boats were on display – despite Finland being home to well-known producers such as Nautor´s Swan and Baltic Yachts.
The show hosted 302 exhibitors with more than 500 boats on almost 27,000sq m of space. The dominance of small aluminium boats up to around 8m was apparent, with local market leaders Buster, Yamarin and Silver Boats all in attendance.
"Last year we sold a lot of boats at the show, and this year it's on the same level," says Seppo Vesterinen, responsible for sales at Aquador, a brand owned by Bella-Veneet Oy. "The show is an important sales opportunity for our company."
Boat equipment exhibitors also reported a good show. "It seems like customers now want to focus on comfort and security for the coming boating season," says Kim Tigerstedt, CEO of Maritim Oy. "We've had good sales results for our products, especially for safety vests, fridges and polishing equipment."
According to a visitor survey, 91% of visitors were satisfied with the show, 39% said they would make an investment decision at the show, and 54% made a purchase.