Vene 20 Båt sees 8.7% increase in visitor attendance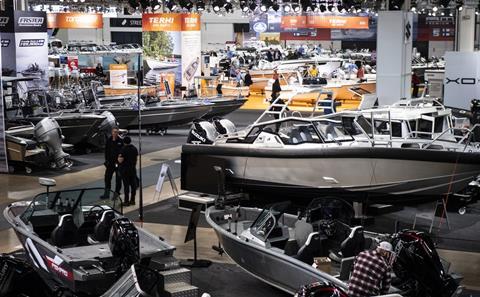 This year's Helsinki International Boat Show (Vene 20 Båt) saw an 8.7% increase in visitor attendance compared to last year's edition – the largest growth percentage in the 18-year history of the show. Almost 70,900 people visited the event, which ran from February 7-16 at Messukeskus Helsinki, Finland.
"The long boating season that is now to be expected has increased the popularity of boating," says Jarkko Pajusalo, managing director of show organiser Finnboat, the Finnish Marine Industries Federation. "The boat show has developed much during the past years. The show offers experiences to an even broader target audience and has nicely changed its format. It introduced boating to new audiences and offered them more programme than ever this year."
According to Mikael Winqvist, MD of AMT-boats Ltd, the company made more deals and offers than last year. "The premiere-presented AMT 165 BR, which was chosen 0pen Boat of the Show, attracted much attention, but also other models were of interest," he says. "About half of our boat sales have something to do with the boat show. We sell directly to boaters at the exhibition, but it is also very important to meet international and other partners.
"Nowhere else is our entire model range so well presented as here," Winqvist adds. "At the exhibition this year we met many clients who have sold their old boats or have had a boating pause for some years. It seems people now want to spend more time at their cottages and boating in Finland. There seems to be a growing interest in boating and boats."
This year Ajola Yachts invested more in the show than previously and brought two Beneteau-sailboats and two smaller sailboats instead of only one. "Participating in the boat show increases the awareness of the label and strengthens the brand, " Ajola managing director Antti Saarisalo says. "We received much positive response due to our participation and reached new sailing audiences who are ready to buy new sailboats instead of used ones.
"The interest in daycruising also seems to be increasing," he adds. "I strongly recommend other sailboat companies to participate in the exhibition in order to increase interest in sailing and the overall supply of sailing boats at the exhibition."
According to a visitor survey, Vene 20 Båt attracted more motorboaters than previously. Of the 300 respondents, 46% replied that they were motorboaters, while last year's figure was 38%. The next largest visitor groups were cottage boaters at 23%, fishers at 18% and sailors at 18%.
Of the visitors, 75% said they owned a boat. Visitors were mostly interested in motorboats, boating equipment and supplies as well as in boating clothing and shoes. Interest in all these increased by over 6% compared to last year. Some 74% of respondents said the show will affect their coming purchases compared to 63% last year.
In terms of satisfaction, 96% replied that they were more satisfied with the event and 92% said that they will come to the boat show next year.
Organised by Messukeskus on behalf of Finnboat, Vene Båt is said to be the largest boating event in Northern Europe. Next year's event will return to Messukeskus Helsinki from February 12-21, 2021.